"It's not tolerable. This is bad behaviour, not sophisticated organised crime."
Loading
The woman is the latest in a string of unconnected Sydney solicitors to be charged with criminal behaviour.
Criminal lawyer Martin Churchill is facing charges alleging that he worked with the state's most heavily supervised prisoner, Bassam Hamzy, to run an ice-dealing ring out of Goulburn's Supermax.
Police say Mr Churchill, who was refused bail and remains in custody ahead of a potential trial, participated in a criminal gang in Sydney and Wollongong between 2017 and 2018, where he took part in the supply of 452 grams of methylamphetamine and dealt in $14,000 worth of proceeds of crime, as well as allegedly tipping off his client that police may be listening to his calls.
Mr Churchill's alleged criminal behaviour was uncovered by strike force detectives investigating the bedside execution of 15-year-old Braydon Dillon.
There is no suggestion Mr Churchill was involved in the teen's murder.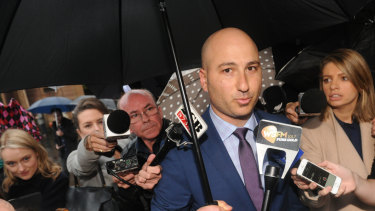 That same strike force also charged prominent criminal lawyer Ali Abbas with being an accessory after the fact to Braydon's death.
Police will allege in court that Mr Abbas facilitated and co-ordinated the provision of false affidavits on behalf of others, and passed on information relating to the alleged murder between numerous people.
Sally Rawsthorne is a Crime Reporter for The Sydney Morning Herald.
Lucy Cormack is a crime reporter with The Sydney Morning Herald.