"I am inclined to accept that Ms Gobbo is probably suffering from those conditions, but I'm not presently persuaded she has demonstrated a reasonable excuse for failing to attend before this Royal Commission," Commissioner McMurdo said.
The commission was willing to take her evidence by telephone and in short bursts, limiting the length and nature of the cross-examination, Commissioner McMurdo said.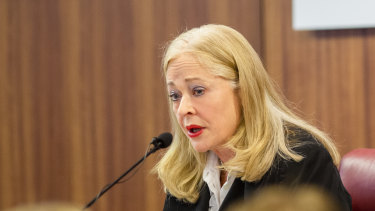 She said some police officers have similar medical issues and still took the stand.
The inquiry was also yet to receive a statement from the mother-of-two, whose current location is a tightly-held secret because of the grave risks to her safety after she gave police information about underworld heavyweights, many of whom were her clients.
"Despite the Commission affording her every consideration, she has not availed herself of the opportunity to, yet, provide the commission with a statement," Commissioner McMurdo said.
She noted Ms Gobbo was a central protagonist in the inquiry and she continued to be represented at the community's expense.
The Age reported earlier this year she had previously been given $2 million in public money to fund lawyers who fought to keep her role as an informer secret in a succession of court cases that led to the royal commission being called.
Despite medical professionals saying Ms Gobbo was deteriorating and in a cycle of despair and emotional paralysis, Commissioner McMurdo noted one psychologist said: "Ms Gobbo's training as a lawyer was indicative of her intellectual ability … her memory is remarkable."
The issue was adjourned to November 26.
The royal commission is examining Ms Gobbo's role as a registered source, Informer 3838, and how her conduct may have compromised the convictions of dozens of her clients, including some of Melbourne's key underworld figures.
Loading
Faruk Orman's conviction for the 2002 murder of gangland figure Victor Peirce was the first to fall in the wake of the scandal. The 37-year-old former client of Ms Gobbo was freed last month after 12 years behind bars.
There are also numerous court cases under way by Ms Gobbo's former clients who want to be released from prison, while the compensation payment for the recently freed Mr Orman is also expected to run into the millions of dollars.
Tammy Mills is a Crime Reporter for The Age.