Dupas was last year charged with murder over Ms Downes' death.
He appeared before the Supreme Court on Tuesday, via video link from prison, as prosecutor Matt Fisher told the court the latest case against Dupas was to be discontinued.
Justice Peter Almond said the decision did not count as a verdict of not guilty or an acquittal, and that it didn't prevent prosecutors and police bringing the murder case against Dupas in the future.
Despite the decision, Dupas, 66, will spend the rest of his life in prison for the murders of Mersina Halvagis, Margaret Maher and Nicole Patterson.
Mr Fraser spent time in prison with Dupas after the former lawyer was jailed for drug trafficking. He told a 2015 inquest into Ms Downes' death that while in prison, Dupas had made references to "the old sheila, Downes".
Mr Fraser alleged Dupas once told him: "I reckon I'm going to end up wearing the old sheila, Downes, too."
Mr Fraser was to be a key prosecution witness in the murder trial against Dupas but a court hearing last month was told the former lawyer was seriously unwell, had seen medical specialists and didn't believe he could withstand days of cross-examination by Dupas' lawyers at trial.
A further hearing was told prosecutors were waiting to get an update from Mr Fraser regarding his medical condition. Mr Fisher on Tuesday said he had seen the updated medical report but didn't specify its contents.
Dupas was spared from giving evidence at Ms Downes' inquest on the grounds he might have incriminated himself. Then state coroner Ian Gray decided against forcing Dupas to give evidence because compelled evidence was unreliable and of little assistance.
Judge Gray was told Ms Downes was stabbed three times in the neck after her killer entered the nursing home by cutting the winding device and fly screen on a window, possibly with boltcutters. There was also bruising on Ms Downes' head and body.
A staff member at the nursing home saw that Ms Downes was asleep about 12.30am, but about 3am another resident said she heard a door opening and blinds rattling.
A staff member discovered Ms Downes' body after 6am. The contents of her handbag and a drawer were on her bed.
Loading
Ms Downes had lived at the nursing home since 1989 and was considered the centre's matriarch with no known enemies.
Dupas is serving three life terms in prison, without the possibility of parole, after he was separately convicted of murdering Ms Maher in October 1997, murdering Ms Halvagis less than a month later and Ms Patterson in 1999.
He also has convictions for violent physical and sexual assaults on other women, dating back to the 1970s.
Ms Downes' granddaughter Jodi was in court on Tuesday and said outside: "While the family are disappointed with the outcome, we understand the circumstances and would like to thank both police and prosecutors."
George Halvagis, whose daughter was murdered while visiting her grandmother's grave at Fawkner cemetery, was also disappointed Dupas wouldn't face another trial.
"I feel very sorry for the family, they've been waiting so long to have justice and let Ms Downes rest in peace," said Mr Halvagis, who is regularly in court supporting victims of crime.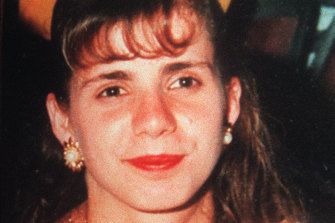 "I hope something in the future happens … for the sake of the family."
Mr Halvagis said he and Jodi Downes both had "a pain in the heart that will never go away".
Loading
Media were prevented from reporting Dupas' past when he was charged last year with murdering Ms Downes, to ensure he received a fair trial.
Soon after, Channel Seven newsreader Peter Mitchell inserted the words "serial killer" when reading a script to air about Dupas, and was forced to apologise to the Supreme Court.
He was eventually spared being charged with contempt of court after Justice Lex Lasry found Mr Mitchell went "off-script" and the mistake wasn't intentional.
A suppression order preventing media from reporting Dupas' name was later imposed.
Justice Almond on Tuesday lifted the suppression order once he was told prosecutors had discontinued the case that Dupas murdered Ms Downes.
Adam Cooper joined The Age in 2011 after a decade with AAP. Email or tweet Adam with your news tips.