Protesters sang peace songs and chanted "climate action now" as police slowly removed them from the road.
Ms Ramadan, a health professional, said she was scared for "what the future will be like if we don't do something".
"Now is the time to show the government how important this is and how people power can change our futures," she said.
Ms Ramadan said the location of Tuesday's protest remained a secret until the last minute to ensure the activists' safety.
Fellow campaigner Miriam Robinson was so concerned about climate change she sold her Melbourne home to live in Ballarat where it was cheaper so she could retire early and rally the government to take action.
She said she had been worried about the climate emergency since the drought that hit Australia's east coast in the early 2000s.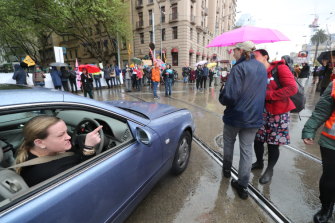 The full-time activist said she "couldn't look her children in the face if she didn't do something".
"I'm here to tell you it won't be okay unless we put our foot full-scale on the accelerator right now with climate action as if it was a World War II mobilisation," she said.
"We need to do everything we can now or else we are in the deepest trouble imaginable."
But not everyone backed the cause.
One motorist was furious with the protesters. She was trying to make her way to the house of her mother, who passed away on Sunday.
"I heard that these idiots were here yesterday so I rescheduled, but here they are," she said.
The action has been criticised by Premier Daniel Andrews, who says the tactics aren't winning the climate cause any friends.
Mr Andrews said construction of the Metro Tunnel and other works were already causing delays in the city and "the last thing we need is disrupting people further''.
The protesters, who are calling on the government to take action on climate change, have promised highly disruptive protests all week as part of a global campaign dubbed the 'Spring Rebellion'.
In Brisbane, a protester suspended himself under the Story Bridge in a hammock and demanded premier, Annastacia Palaszczuk, declare a climate emergency.
Paul Jukes, a rock climber with 30 years' experience, said he had enough supplies to last two days and his life would be in danger if police tried to rescue him.
Melbourne police arrested 11 protesters in Melbourne on Monday night after thousands of activists shut down city streets during the afternoon's peak-hour commute.
About 30 tents were erected in Carlton Gardens overnight.
The City of Melbourne is working with the group and police, and said it would respond to protesters on a case-by-case basis. Sleeping in the streets or parks is not against Melbourne bylaws, but erecting a tent is.
Loading
Extinction Rebellion Australia spokesperson Miriam Robinson claimed to radio station 3AW they would dismantle the tents in the Carlton Gardens each morning as part of an agreement with the council.
The group blocked the Lonsdale and Russell streets intersection for about 25 minutes from 5.15pm on Monday as they chanted and sang songs.
"The oceans are rising, no more compromising," the group chanted as they marched south down Russell Street.
Protesters then shut down a second location on the Russell and Collins streets intersection.
Singing and dancing, the group sang "get up, get down there's a climate movement in this town".
Police – including those on mounted horses and the public order response unit – blocked protesters at the intersection outside Flinders Street Station and trams were forced to divert to avoid the crowds.
Police told protesters to move on and warned those who didn't they would be arrested.
A small group of activists defied those warnings, and linked arms before singing "peace, love, respect".
Protesters chanted together "we will be back". The intersection reopened to traffic at 7.30pm.
Jane Morton, a semi-retired clinical psychologist and Rebellion volunteer, said she would be "prepared to die" if it meant action would be taken on climate change.
She said protesting was "like a war" and "unprecedented action against climate change" was needed.
"We are risking passing the point of no return for a hot house earth, which is an uninhabitable earth," she said.
With Sumeyya Illanbey, Rachael Merritt and Rachel Eddie