ICAC commissioner Peter Hall QC has questioned Jamie Clements' memory.
"You seem to have very bad memory about many things," Mr Hall says.
Mr Clements' lawyer Stephen Lawrence doesn't appreciate the commissioner's observation and objects to it, describing is as an "unreasonable suggestion".
The commissioner tells him to sit down, and tells Mr Clements he's got a bad memory again.
Jamie Clements has categorically denied that he ever received the Aldi bag of cash at the centre of the ICAC inquiry.
Mr Clements said he met with Huang Xiangmo and one of his associates in April 2015 at NSW Labor's head office. He said he wasn't in a position to deny that they gave him a gift.
However, he denied that he was ever handed a bag of cash by Mr Huang and denied he ever handed that bag of cash to a Labor staff member.
He says the Chinese billionaire was seeking a meeting with then-federal Labor leader Bill Shorten.
Mr Clements says he called Mr Shorten while Mr Huang was in his office and organised the meeting.
"Mr Huang would like to meet Bill Shorten, he would like a lunch with Bill Shorten, could I facilitate that and I said 'yes of course' and I believe I called Bill Shorten while they were sitting there," Mr Clements told the ICAC.
Labor community relations officer Kenrick Cheah has previously told the inquiry that Mr Clements handed him an Aldi bag containing $100,000 cash and told him to count it in the office.
The inquiry heard Mr Huang and Mr Shorten did meet for a dinner several weeks later. 
That's lunch. We'll be back after 2pm.
Counsel assisting is zeroing in on the time between the March 12 Chinese Friends of Labor dinner and April 9, when the $100,000 supposedly raised from the function was banked.
Mr Clements is asked multiple times if he was ever approached during that time and told to expect a large amount of money coming in to the Sussex Street head office.
He says he can't recall that happening, and thinks something like that would stick in his memory.
He's asked if anyone from Labor raised concerns with him that a lot of the money supposedly raised by the dinner had not yet been banked.
Mr Clements says he was never approached with any issues like that, and said Kenrick Cheah, the community relations officer, would have been responsible for that.
"I have no recollection of anyone bringing that to my attention," Mr Clements tells the inquiry.
He adds that Ernest Wong was a mentor, or "big brother," to Mr Cheah.
Jamie Clements is being asked about his communications with Ernest Wong in the leadup to the 2015 state election.
He reveals he had lunch with Mr Wong and Chinese billionaire Huang Xiangmo, where he remembers drinking Grange, and asking why the Chinese never drank white wine with seafood.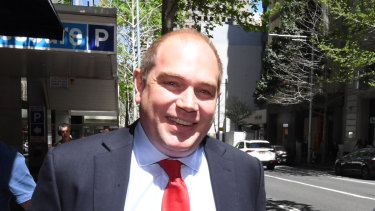 He said he was trying to sell the group on a French wine.
Mr Clements said he also called Ernest Wong to see if he could get him in to the Golden Century restaurant on Chinese New Year because it was so busy.
We've moved on from the phone access argument, but it's not resolved. Jamie Clements' lawyer said there was no guarantee to anyone of the integrity of security of information in the digital age.
Stephen Lawrence asked what would happen if a federal agency served ICAC with a warrant for the phone.
"I can not blindly and perhaps naively accept assurances that in my opinion are unable to be given in absolute and categorical assurance," Mr Lawrence said.
They're going to revisit the phone access issue later in the day.
Mr Clements is now in the witness box.
Slow-going in ICAC this morning, with the commissioner, counsel assisting and Mr Clements' lawyer engaged in legal argument over how to obtain encrypted material on the former NSW Labor general secretary's phone.
Mr Clements indicated yesterday that he's willing to sit down with ICAC officers and show them the messages in question, rather than having the entire contents of his phone downloaded by the commission.
"It's well within your discretion to not pursue this evidence in this particular way," Mr Clements' lawyer Stephen Lawrence tells the commissioner.
There are concerns his phone has a legally privileged group chat on the phone.
Mr Clements will be called to give evidence once this is resolved.
There's been a delay to proceedings this morning over how the ICAC could use Jamie Clements' phone, which they took off him yesterday to obtain some WhatsApp messages.
The former NSW Labor boss was asked to provide proof of some messages between he and Ernest Wong, but his lawyers raised concerns last night that the phone also contained messages covered by legal privilege.
Mr Clements and his lawyers had a WhatsApp group called 'Operation Aero,' where they discussed the inquiry, it was revealed. Mr Clements' lawyer Stephen Lawrence has also told the inquiry that his client could have politically sensitive information on the phone. 
Counsel assisting the commission Scott Robertson tells the inquiry that Mr Wong will likely not be called to give evidence today, despite being set down to appear.
Jamie Clements, who was NSW Labor's general secretary until early 2016, on Wednesday revealed to the inquiry Huang Xiangmo had given him $35,000 cash in a wine box to help cover his legal fees in 2015.
Mr Clements said the Chinese billionaire and developer took him upstairs to a room in his Mosman mansion and handed him the cash in August 2015.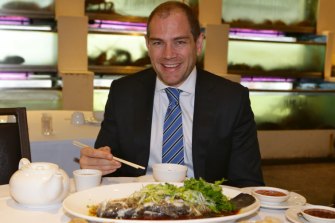 Mr Clements said he was in "all sorts" of trouble at the time and had been "hit by an AVO", which was later dropped. He also confirmed that Mr Huang had placed him on a $4000 weekly retainer for three years after he resigned as the NSW Labor boss.
Mr Clements, who is accused of being handed $100,000 cash in an Aldi shopping bag from Mr Huang, said the first time he heard the allegation was from Ernest Wong in 2017. He told the inquiry he thought Mr Wong had said Audi bag, "like the car".
The former party boss also told the ICAC he delegated campaign fundraising activities to his then-assistant secretary, Kaila Murnain, and did not "micro-manage" her during the 2015 campaign.
The ICAC has been investigating a 2015 Chinese Friends of Labor fundraising dinner and whether a group of "straw donors" were used to conceal the true identity behind a $100,000 donation.
The inquiry has heard Chinese billionaire Huang Xiangmo was the source of the cash. A Labor employee told the ICAC he saw Mr Huang walk into Labor's headquarters in 2015 with an Aldi shopping bag full of cash.
Mr Huang, who is barred from Australia, has denied making the donation and refused to appear before the inquiry.
The inquiry has heard from a host of Labor figures, including former Senator Sam Dastyari, former NSW MP Ernest Wong and now-suspended NSW Labor general secretary Kaila Murnain.
Several witnesses from the Chinese community have told the ICAC they signed false donation declaration forms relating to the cash, and were subsequently urged by Mr Wong not to tell the truth to authorities.
Good morning and welcome back to The Sydney Morning Herald's live blog of the Independent Commission Against Corruption inquiry into NSW Labor.
The corruption watchdog is investigating an alleged scheme by members of Labor to circumvent the state's political donation laws.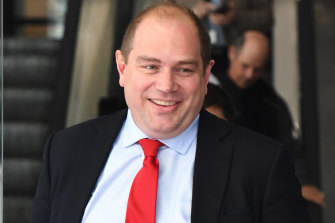 We're back after another day of startling evidence, with former NSW Labor boss Jamie Clements expected to again be grilled by the commission. Former NSW MP Ernest Wong, who has found himself at the centre of the inquiry, could also appear after Mr Clements.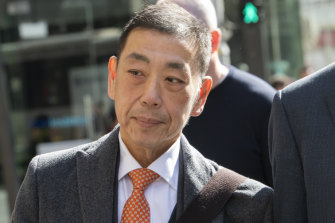 The inquiry is expected to kick off a bit later this morning, between 10.15 and 10.30.