"Last year was difficult because I couldn't do a lot with the team," he said. "The relationship in the team wasn't the best. Also for us it was very difficult to motivate them, to push them because [there were] too many selfish players in the squad."
Loading
Babbel says it was a problem with both foreign and domestic players no longer at the club, suggesting they were quick to blame others and complain during difficult periods last season.
"Selfish players, they are only looking for themselves, they don't give a f— about the team. Simple," he said. "Especially when it's not going well, you can see their true character, it's always easy to put your finger on someone else."
Baumjohann left the Wanderers for Sydney FC this season and described an air of resignation within the club last season and a focus that shifted towards next season very early in their campaign.
"The whole year was just tough because I think some people just gave up very early," Baumjohann told News Limited on Friday. "It was just about next year – the new stadium, the new facilities. It was just all about next year, next year, next year."
A large-scale overhaul at the club is said to have lead to a new attitude within the squad. That has made Babbel confident of bouncing back this season, beginning with their round one clash against Central Coast Mariners at Bankwest Stadium on Saturday, and finishing in the top six for the first time in three seasons.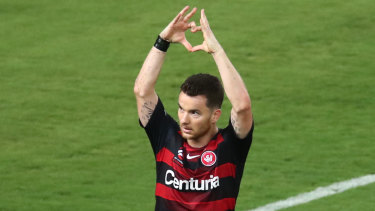 "This is the reason I have a good feeling, because we have good characters now," he said. "I am very optimistic that it's so much easier to work with them, the work ethic is so much better than last year and nobody is crying anymore because the training is too hard or whatever."
One of those new signings, Radoslaw Majewski, is unlikely to feature at all this season after rupturing his anterior cruciate ligament late in pre-season. The Wanderers are not confident he will return by the end of this season and have already started searching for a replacement.
"Here in Australia it's 10-12 months with the ACL (anterior cruciate ligament) because he pitches are harder than in Europe. If he is ready for the next season, in the pre-season then everything is fine," Babbel said. "It's also not so easy now [to find a replacement] because all the transfer windows are closed in many countries so now it's up to what's possible. maybe we have to wait until [the European] winter because we want to find the right one."