"Regional Operations Group officers and local police attended to disperse the party-goers and over 200 people exited the property.
"As the crowd was dispersing, fights broke out amongst party-goers and they began throwing rocks at police.
"A car belonging to a local resident was struck by a rock causing a large dent."
The four bedroom, two bathroom property is rented through Airbnb for $350 per night, and is currently on the market for sale.
A profile on the accommodation site describes the house as a "cosy little house situated in a quiet residential area".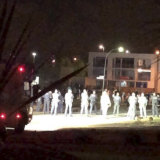 "The premises are strictly no parties, no smoking and no pets," it read.
As of Saturday morning, no charges had been laid for the out-of-control party.
Under WA laws, a person who allows a gathering to become out-of-control can face up to 12 months in jail and be fined up to $12,000.
They can also be ordered to pay compensation for the police resources required to break up the gathering.