"The culture whereby the general secretary makes a directive and people fall into line needs to change," Mr Albanese said.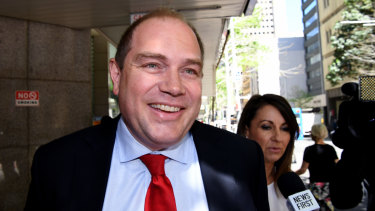 Ms McKay said the ongoing corruption inquiry into NSW Labor's head office had revealed there was "far too much power vested in the general secretary".
Ms McKay said since 2015 the party had improved its governance but the recent ICAC hearings had exposed "serious shortcomings in the party".
"It's time to let the sunshine in," Ms McKay said. "This is about establishing a new era for transparency and accountability as we move into the 2020s."
Loading
Professor Lavarch will lead a two-part review into the governance and culture of NSW Labor, with the first stage to focus on the duties and responsibilities of the general secretary.
Mr Albanese said he expected it to be a "frank and fearless review to fundamentally change NSW Labor Party office culture".
"There is something fundamentally wrong when people running a political party office think its normal to behave in this way," Mr Albanese said.
During seven weeks of public hearings the ICAC heard former general secretary Jamie Clements was handed an Aldi bag containing $100,000 from controversial billionaire Huang Xiangmo during an April 2015 meeting in the ALP's headquarters in Sussex Street in Sydney. Mr Clements has denied Mr Huang was the source of the cash.
Loading
His successor Kaila Murnain was suspended indefinitely as general secretary in August after she gave evidence to the ICAC that she had kept quiet for three years about an illegal donation.
Ms McKay said the party would not appoint a new general secretary until the review was complete.
"[T]here will be no appointments for the general secretary, until we have a firm definition around the roles and responsibilities, and indeed how this position works within the broader party structure," Ms McKay said.
The first stage of the review will also consider the "governance mechanisms of the party", including the role and structure of the administrative committee, the party's governing body.
Mr Albanese said there was "clearly a problem with oversight" within the administrative committee, which has more than 40 members including party president Mark Lennon, party office holders, and senior union officials.
The second part of the review will examine the party's compliance with electoral and donation laws, including its fundraising activities and training provided to branch officials and candidates.
Professor Lavarch said there was already a "strong will" within the state and federal party "to act on any of that I will make."
"This can be a watershed watershed moment in terms of ensuring that the NSW branch meets the highest expectations of all party members," Professor Lavarch said.
Dr Stephen Mills, a senior lecturer in political science at the University of Sydney, will assist Professor Lavarch with the review.
Lisa Visentin is a state political reporter at The Sydney Morning Herald.