Loading
The plan, which includes $24 million for a feasibility study for a dam on the Mole River near the Queensland border, was announced by the federal and NSW governments over the weekend as part of their response to the severe dry spell.
Efforts to address the drought now tally about $7 billion at a federal level, with about $3 billion from NSW since 2017, the governments said in a media release on Sunday.
A spokesman for South Australia's water minister David Speirs said the limits on what can be taken from any catchment mean expanded or new dams in NSW are unlikely to affect flows reaching that downstream state.
"As long as NSW abides by the existing rules and regulations, the plans are basically fine by us," the spokesman said, adding that any impacts are likely to affect the Darling River.
"We basically get all our water from the Murray," he said.
Melinda Pavey, the NSW water minister was approached for comment.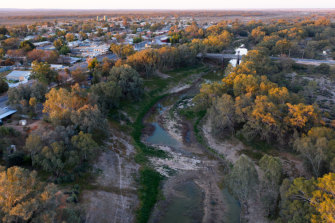 'Nail in the coffin'
Jamie Pittock from the Australian National University's Fenner School of Environment and Society said the dams would convert unregulated flows to regulated ones, with the environment the likely loser.
Loading
"A lot depends on whether NSW will give full legal protection as promised in the 2004 National Water Initiative, to the state managed 'planned environmental water'– the water not previously allocated for consumption – in the new state Water Resource Plans," Professor Pittock said.
Justin Field, an independent NSW MP, said building more dams in northern NSW would be disastrous for the Barwon-Darling River.
"The Natural Resources Commission this year released a scathing report that the Barwon-Darling is 'an ecosystem in crisis' and squarely pointed the finger at mismanagement of the river during low-flow periods," he said.
"The Nationals' plans to build new dams upstream of this critical river system would be the nail in the coffin for the Barwon-Darling without a substantial change to management rules to protect low flows and would now risk reducing flows during those critically important flood periods as well."
Maryanne Slattery from think tank The Australia Institute said the public should also be concerned about the "outrageously expensive" cost of the new dams.
"The Dungowan upgrade is estimated to cost $480 million to increase the dam's capacity from 6 to 22 gigalitres, which is $30 million per gigalitre," Ms Slattery said. "That's ten times the $3 million per gigalitre the [federal] government currently budgets for water recovery – a figure they already acknowledge as expensive."
Separately, Sussan Ley, the federal environment minister said she would "personally review all proposals for priority dam projects" to ensure there were "no unnecessary delays to dam proposals".
"We are finalising a bilateral agreement with NSW under the Environment Protection and Biodiversity Act to facilitate the streamlining of processes for environmental assessments," she said.
Peter Hannam writes on environment issues for The Sydney Morning Herald and The Age.
Most Viewed in Environment
Loading