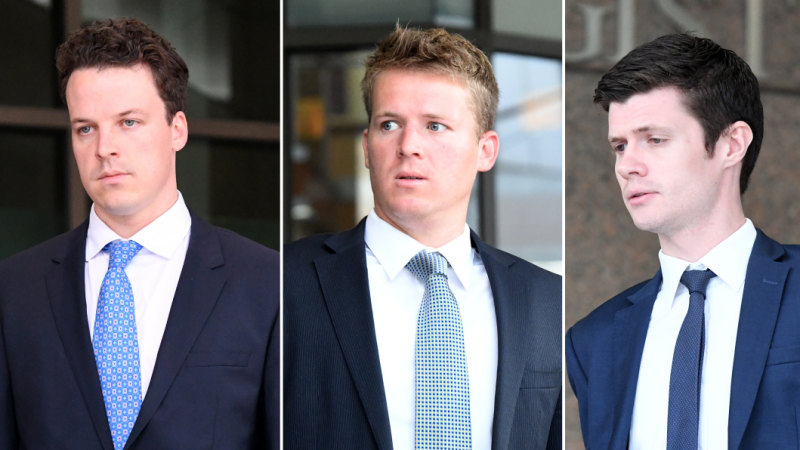 The Walker brothers are the sons of Tim Walker, QC, and grandsons of pre-eminent scientist and 2000 Australian of the Year recipient Sir Gustav Nossal.
The brothers and their friend had spent the evening of September 6, 2018, in the MCC members' area of the stadium watching an AFL finals match between Richmond and Hawthorn.
The court heard that shortly before midnight Dominic Walker was seen on CCTV cameras at the ground stumbling and appearing intoxicated before the trio left on foot, walking towards Jolimont station and Wellington Parade.
As they left they became involved in a verbal argument with David Raeside and Leonard Tricarico, aged in their 60s and 40s respectively, before the Walker brothers attempted to leave in a taxi.
Shortly after that the brothers spotted Mr Raeside and Mr Tricarico near Mr Fitt and went to intervene.
The crown prosecutor Craig McConaghy said what followed was a ''most vicious attack''.
While Saw Walker was entangled with one victim, his older brother kicked the other to the head before dragging him along the ground and hitting his head onto the road 15 times.
Dominic Walker then yelled ''I'm going to fucking kill you, you're going to be dead'' before stomping on the man's head three times, leaving him with bleeding on the brain and a string of facial fractures.
The other victim was heard yelling ''my arm is broken just leave me alone'' during the 45-second assaults.
Lawyers for the three men argued that the Walker brothers had come to the aid of their ''vulnerable'' friend when the incident occurred and that there was no pre-planning nor weapons involved in the attack.
But the prosecution argued that mobile footage of the assaults made for confronting viewing.
''Most of [Dominic Walker's] blows occurred when the victim was defenceless and being held,'' the crown prosecutor said.
''This was a most vicious attack that left the victim in an unconscious state.
''It is at the upper echelon of offending.''
Loading
Earlier the men's lawyers had argued that the charges should be heard in the Magistrates Court despite a push by the prosecution for it to be heard in the County Court.
Magistrates can impose maximum jail terms of two years on a single charge, or five years on multiple charges.
The charge of intentionally causing injury carries a maximum penalty of 10 years in jail if before a County Court judge.
Magistrate Duncan Reynolds granted the application and will hear the trio's pleas. The matter continues on Monday.
Erin covers crime for The Age. Most recently she was a police reporter at the Geelong Advertiser.