Loading
"To be honest, they were pretty much full anyway," Jurman said. "When I knew I was leaving [Ittihad], I told [my agent] Tony [Rallis] to contact Sydney first, out of respect. I had a lot of good times there. From my point of view, if Sydney fans are angry with me, that's up to them. For me, I did everything respectfully. I left on good terms, I had some great times there and I won some things as well."
The Wanderers pounced. They weren't the only club bidding for the signature of Jurman, with sources close to the player suggesting premiers Perth Glory also flagged their interest.  However, the pitch from Wanderers coach Markus Babbel and their chief executive, John Tsatsimas, convinced Jurman to join the club for this season and return to his home in Sydney's west.
"I finished up in Saudi and I had some calls with Markus and JT [Tsatsimas]," he said. "They showed that they really wanted me to come home and play for them. I think it was a good opportunity to get some games. This was the first camp I have missed with the socceroos since I have been involved and the only way I can get back in there is by performing."
Having established himself as one of the key protagonists in previous derbies, Jurman admits it was surreal driving into the Wanderers' headquarters in Blacktown and putting on a red and black shirt for the first time.
"It did feel bit strange at the start. Seven years is a long time to be at Sydney so it did feel a bit strange," he said. "But I am back in Sydney, I am in familiar territory and my best mate [masseuse Anthony Siciliano] works for the Wanderers so I was pretty stoked. I am pretty close with him and his family. He's really excited to have me here, to see me every day at work. Three years is a long time to be away."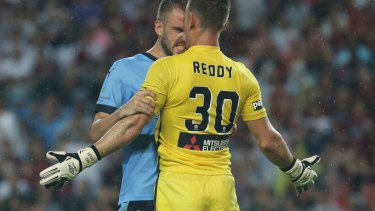 Jurman's move west stokes the tension between the two clubs ahead of Saturday's derby but the player is confident he can rise above any abuse from the stands.
"I don't think the reception is going to be that bad. I can't pay attention to that. I just have to look and focus on my job. I have played in front of massive crowds so I have to block out whatever comes," he said.