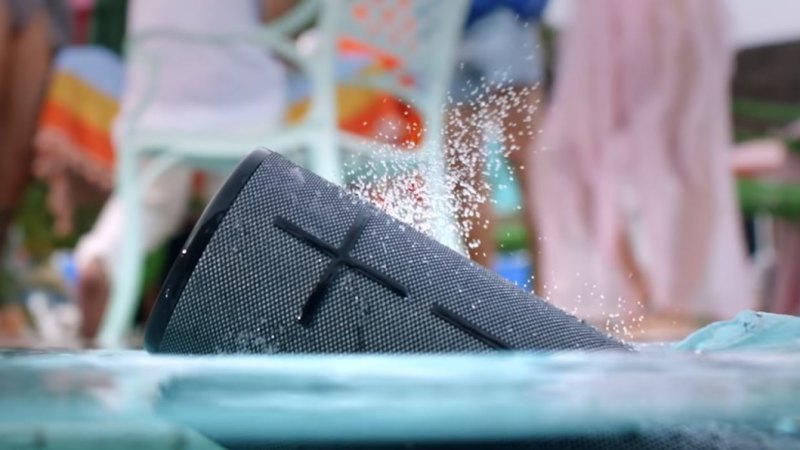 Most importantly, the Wonderboom 2 sounds a lot better than the original, with a much deeper bass than you'd expect from it's size. Battery life also gets a boost; this tiny little speaker can now play up to 13 hours on a single charge. For my personal use, mainly playing podcasts in the backyard at a lower volume, I could go weeks before hearing the recharge alert. And you can now pair two Wonderbooms as stereo speakers.
The UE Boom 3 sounds even better than the Wonderboom, and is in my opinion the best bluetooth speaker on the market. It has better battery life at up to 15 hours playback, and the wireless charging dock that was once a $50 extra — something I complained about in an earlier review — is now included, making the Boom far more convenient to use. My only complaint is that both speakers use Micro USB, not USB-C, for wired charging.
The UE Boom 3 sounds fantastic at any volume, whether you're listening to Lizzo, Bach or This American Life. The speaker has a deep bass that never muddies up the high end, even when it's covered in mud.
Both come in a striking array of colours and fabrics, and feel so solid in the hand. The Wonderboom 2 is cuter, but the UE Boom 3 now allows users to custom design the colours of the buttons, spine and fabric on the company's website. You can also get a bigger and louder version of the Boom — the MegaBoom — for $299.95, though it's not as customisable.
Bluetooth speakers generally fall on two sides of a spectrum; they're either cheap junk that sounds awful, or they sound great but are too expensive. Since the original UE Boom, Ultimate Ears has made durable, great sounding speakers at a reasonable price.