Werribee West Family Centre is operated by Early Childhood Management Services (ECMS).
Following an investigation by the Department of Education and Training, a spokeswoman confirmed on Thursday that charges had been laid against ECMS.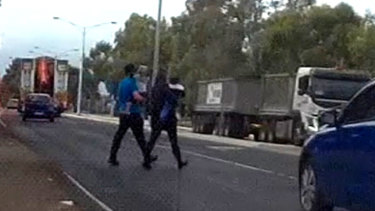 "The safety of children being cared for by early childhood providers is of utmost importance," she said.
"The Department recently issued charges against Early Childhood Management Services following an incident at Werribee West Family Centre in March this year."
Loading
The matter is listed in the Melbourne Magistrates Court for a mention in December.
The department spokesman said they could not confirm what charges were laid due to ongoing legal proceedings.
However, it's understood they relate to alleged breaches of the Education and Care Services National Law Act 2010, which includes penalties for the failure to adequately supervise children and to take reasonable precautions to protect children from harm and hazard.
The penalties for these breaches are $10,000 for an individual and $50,000 for others such as a companies or organisations.
ECMS runs 70 kindergartens and childcare centres across Melbourne.
The father of Luka, one of the children who escaped onto the road, told The Age in the days after the incident that he would not be sending his son back to the childcare centre.
"When we saw [the footage] … oh my god. You know what, it's kind of in our head now because the questions that go through your mind are: what if, what if, what if," he said.
One of the scariest moments of the footage was seeing a large truck drive past in the minutes after the boys were on the road, he said.
An ECMS spokeswoman said: "We have worked with and assisted the Department of Education and Training over recent months in their investigation of the incident at Werribee West Family Centre.
"As the matter is now before the courts, we are unable to comment further. I would like to reiterate that we remain deeply sorry that this incident occurred and grateful that the children were unharmed.
"We have taken significant steps since the incident to further review and enforce procedures at all our sites to protect the safety and wellbeing of children in our care."
The Department of Education and Training is responsible for regulating Victoria's early childhood services and monitoring and enforcing compliance under the National Quality Framework.
Where alleged breaches by childcare operators are substantiated the education department can take a range of actions. These include issuing compliance notices, suspending or cancelling a service or prosecuting the service provider in the Magistrates Court.
Simone is a breaking news reporter for The Age. Most recently she covered breaking news for The Australian in Melbourne.