"That's a real positive for me – I don't have any pain in the knees or groins, they're [feeling] as good as they ever have.
"Obviously I've got to wait and see if something else pans out. It's a different situation for me and it certainly is frustrating because you put in so much work and you hope that things will work out and I feel like I'm finally starting to reap the rewards in terms of the body anyway and obviously just got to hope it works out career-wise too.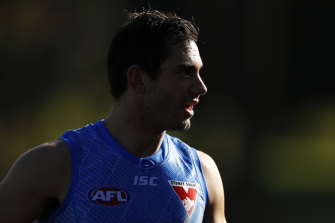 "It's not a great time of year … you scramble a little bit and work out what's going on and talk to a few people, so it's a weird situation, it's not ideal but at the same time, just go forward and hope that something works out."
Menzel, whose contract had a trigger clause for an extra year if he played 10 games in 2019, was told the main reason he was cut by the Swans was that they were going to have a look at the free agency pool to potentially bring in a similar type of player to Menzel.
If he was unsuccessful in finding a third club this off-season, Menzel was prepared to play at state level next year in the hope of potentially being picked up in the 2020 mid-season rookie draft.
"My body feels as good as it ever has so it gives me confidence that whatever level I'm playing at, I'll be able to play at the level I always thought I could and always hoped to get to and it's something that I've had to be really patient about," he said.
"Whatever level that is, I definitely will back myself for high ends [AFL] and if it is at a lower level, then it's potentially good enough that you never know, you might get that opportunity again."
Menzel, who at one point spent almost four consecutive years on the sidelines, understands why clubs would be hesitant to take a chance on him given his injury history, but he was confident all of that was behind him.
Loading
"It's [about] being able to train fully and be part of group and actually train with a group and develop with them and that's something that I just haven't really done at either of the clubs I've played at," he said.
"I barely trained until mid-season last year with Sydney so it's something that if I can get that opportunity, I definitely believe that I can play a role for a side."
Ronny Lerner is a Sports reporter for The Age.