"Now we're making real progress and we'll be back here many times I'm sure to mark other milestones as we push all the way through."
The enormous machine is expected to have made her way Kensington by August next year to form the western entrance to the Metro Tunnel.
The other boring machine, named Joan after Victoria's first female premier Joan Kirner, has already travelled more than 250 metres in the same direction from North Melbourne, and will arrive in Kensington early next year.
The machines are building twin underground tunnels through Melbourne's challenging geological conditions.
Rail Projects Victoria chief executive Evan Tattersall explained the need to separate the machines.
"Because of the impact on the ground, you don't want two tunnel boring machines side by side," Mr Tattersall said.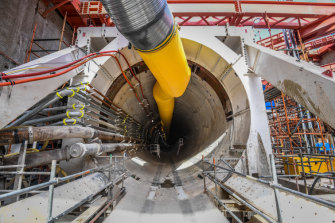 Each machine is more than 7 metres in diameter and 120 metres long and will work around the clock to build the twin tunnels.
Once the boring machines reach Kensington, they will be packed down and brought back to North Melbourne to start tunnelling east towards the Parkville station.
Mr Tattersall said his team was collecting information about vibration as the machines head west under industrial land to understand any potential disruption that could affect residents living above the construction zone.
"Once we start heading from here from the west, to Parkville, that's when we start going under residential.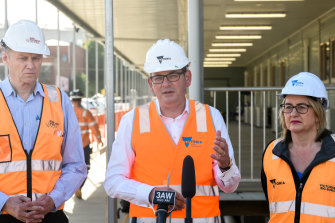 "The good thing about heading west [first] is that we get a lot of intel on how the machines work. It's all theory until you start the tunnelling operations."
Transport Minister Jacinta Allan said the new stations will ease congestion on the train network and also give passengers more choice.
"This will connect for the first time train services to places like Parkville, to St Kilda Road, to very big and important job and education and research precincts in our city.
"Heavy rail makes its easier for people to get in and out of those places for work, medical appointments or study.
"It will significantly save travel time," she said.
Ms Allan said the boring machines applied concrete segments that were being manufactured in Deer Park, creating 70 local jobs.
Loading
"The job opportunities are not just here but right around the supply chain because we've been determined to have strong local content requirements to provide the maximum number of Victorian jobs."
Charlotte is a reporter for The Age.