The legislation allowing mobile abattoirs passed the Upper House this week and they are expected to start operating in Victoria in the new year.
Agriculture Minister Jaclyn Symes said the changes showed the government was serious about making food producers more innovative and sustainable.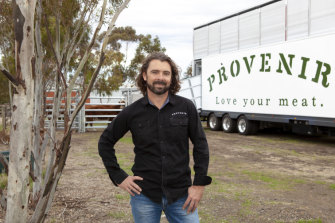 "Allowing mobile abattoirs in Victoria will grow our niche and small-scale meat industries while making sure animal welfare is a priority, reducing the need for transporting livestock long distances to abattoirs," she said.
Even though he is based in Bannockburn, near Geelong, Provenir chief executive Chris Balazs'  mobile abattoir business services farmers in NSW.
He said the new laws would allow him to begin working with Victorian farmers too.
Mr Balazs, who also farms cattle, said his mobile abattoir was less stressful for the animals because they were not being transported long distances in trucks.
"We also ensure they're kept as calm as possible," he said.
Mr Balazs said he can slaughter up to 15 cattle a day – a far lower figure than large commercial abattoirs.
The animals are stunned with a bolt to the brain, rendering them unconscious before they are bled out and stripped of their hides.
Mr Balazs processes the animals onsite and then takes the carcasses back to his farm where they are hung and butchered for sale.
Victorian Farmers Federation president David Jochinke said he was not opposed to the introduction of mobile abattoirs but wanted to have confidence they were meeting "impeccable" standards.
"It is an opportunity for people to get meat processed for commercial sale locally," he said.
But disposing of blood and offal would be a challenge for small mobile operators, he said.
Loading
"The challenge has always been ensuring it can be done in a cost-effective manner and complying with all the regulations."
He said the longest time animals generally spent in trucks before being slaughtered was about four hours, which did not include loading and unloading.
Australian Meat Industry Council chief executive Patrick Hutchinson said mobile operators should be held to the same standards as existing abattoirs.
Mr Hutchinson said he remained concerned about environmental management, including the disposal of byproduct and ensuring workers were paid under the same award as static abattoirs.
Mr Hutchinson said scientific research had not been undertaken to back the claim that mobile abattoirs would produce better quality meat.
Benjamin is a state political reporter