The hotel had been assessed as safe following Tuesday's quake. Images posted to social media show the building's facade having turned to rubble.
Tuesday's quake, a magnitude 6.6, triggered landslides and caused other damage nearby. At least eight people died, two are missing, 395 were injured and more than 2700 houses and buildings, including schools and hospitals, were damaged, according to the Office of Civil Defence.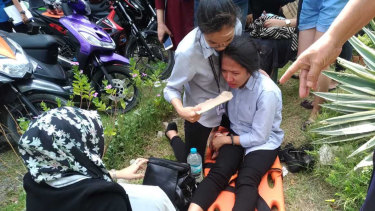 When Thursday's quake struck, more than 12,700 people from nearly 60 villages were still in evacuation centres. Thursday's quake sent residents panicking and threw ongoing aid efforts into chaos.
"We need laminated tents and mats because the residents are sleeping outside evacuation centres," said Emmylou Talino-Mendoza, governor of Cotabato province. "We also need water or water containers, mosquito nets, food packs and blankets. As for medicines, we need medicines for hypertension, coughs as well as anti-tetanus shots."
The quake also caused power to go out in large parts of the affected provinces, she said.
President Rodrigo Duterte, a former mayor of Davao, was in the city on Thursday when the quake struck, said Senator Bong Go, an aide to Duterte.
"A crack appeared on the President's bedroom wall when the earthquake happened this morning," he said. "The President is safe, and there is no need to evacuate him."
In the same region on October 16, a magnitude 6.3 earthquake killed at least seven people, injured more than 200 and destroyed or damaged more than 7000 buildings.
The Philippines has frequent seismic activity. The archipelago lies on the Pacific "Ring of Fire," the arc of faults around the Pacific Ocean where most of the world's earthquakes occur.
The New York Times, AP, Reuters