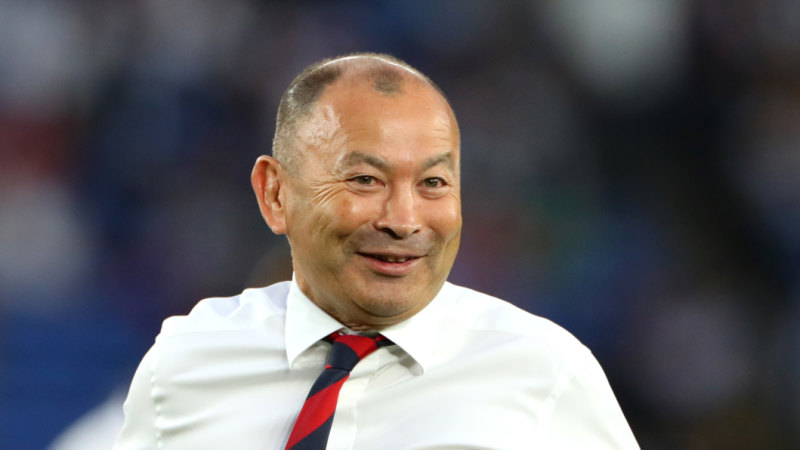 Behind the near fault-free game, reinforced by a majority count in the penalties and lineouts and a crushing defence, England defeated New Zealand 19-7.
True, it was one-try all after New Zealand flanker, Ardie Savea, plunged through from an overthrown English lineout destined for man-of-the-match, lock Maro Itoje. But it was a game that England were never fated to lose, thanks to the boot of George Ford, driving through four goals from five attempts.
In a splendid tournament in which Japan has surpassed itself for generosity, if not in transport organisation to and from the Yokohama stadium, in the wake of Typhoon Hagibis in which 80 people perished, coach Jones' Englishmen men have muscularly, at times mercurially, advanced to the World Cup final against  South Africa.
Sir Eddie? Who would have believed it? It certainly has a distinctive ring to it.
They placed a heavy boot on the throat of their rivals with a second-minute try by the bruising outside-centre Manu Tuilagi and never removed it. Yes, England saved the best for first in an astonishing, absorbing, absolutely outstanding sudden-death encounter against the best team in the world – or so results and statistics said, and so we believed.
A NSW representative from Randwick club, Jones was only deprived of representing Australia by his own much heavier, more physical clubmate, Phil Kearns.
One prominent colleague of Jones said of him without equivocation: "He is a bully, an unabashed bully. But he is having enormous success, so who can find fault with him?"
From my own association with Eddie Jones when coach of Australia, the memory towering above all else took place at Warringah club's ground when, following a Sydney club game, he confronted Warringah's representative centre, Jim Williams, outside the Green Rats  dressing room and berated him in a ferocious confrontation before 400 fascinated spectators.
In a never-to-be-forgotten showdown, the tiny coach stood before the hefty centre and lashed him for minutes on end for what Eddie believed was Williams' unacceptable performance.
Following South Africa's powerful but crudely unimaginative and dreadfully repetitive box-kicking performance in overcoming Wales in the semi-final 19-16, England should claim victory and the William Webb Ellis Cup tomorrow.
So who is moving into the upper stratosphere of candidacy to receive a knighthood now? Sir Eddie? Who would have believed it? It certainly has a distinctive ring to it, just as has Sir Bill Beaumont, the ex-British Lions lock who is now chairman of World Rugby.