The author, journalist Paul Byrnes, said the youngest Anzac that he traced was New Zealander Leslie Shaw who was just 13 years, eight months and six days old, although he was also 165cm tall.
Shaw made it through the war: he was sent home — having survived three years at Gallipoli, Flanders and the Somme — only after his mother wrote to the army pointing out that he was under-age.
The youngest boy to have been killed in action, according to Mr Byrnes' research, was Leslie Prior from the Melbourne suburb of Brunswick who died at the Battle of Bullecourt aged 15 years and three months.
Mr Byrnes could not find a photo of Leslie, but learned he was from a very poor family and had enlisted at the of age 14 years and six days in February, 1916.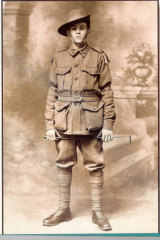 A family story says that Leslie told his mother, Ellen, that if she didn't consent he would enlist elsewhere using a false name.
Mr Byrnes admits to ''a degree of anger'' at how adults let boys serve: the official minimum age was 19.
But recruits themselves wanted to serve the ''mother country''. Some wanted to join brothers at the front or to earn a living for their families.
In 1914, kids were viewed as having reached adulthood when they went to work around the age of 12 to 14.
In addition, it was easier to deceieve people about your age in an era before computers.
One Brisbane teacher had his student removed from the army but the student just went and joined up in Sydney.
Douglas Wood gave his age as 18 and his occupation as baker when he signed up.
In fact, he was a schoolboy and, according to records including a birth date in a meticulous list kept by one of his teachers (no birth certificate was found), he was 14 years and five months old when he enlisted and 15 years and six months old when he was killed in action.
Douglas's nephew, Sel Glanvill of Drysdale (near Geelong), who keeps a photo of Douglas and his ''dead man's penny'' – a metal plate given to the next of kin of fallen soldiers – says he is appalled at the idea of a 14-year-old going to war.
But Mr Glanvill's own father, Douglas' brother-in-law Bill Glanvill, who survived World War I, told him a big motivator to sign up was having ''a big adventure''.
''He'd never left Australia, you see.''
Authorities ''wanted bodies on ships'' to fight and so didn't always ask questions.
Of Douglas' death, Mr Glanvill says now: ''It was very sad. I mean, at 14, 15 he hadn't really lived. He hadn't been anywhere other than to war. He'd been to school and then he enlisted.''
Carolyn Webb is a reporter for The Age.