North-easterly winds had created an inversion effect over Sydney, with temperatures unchanged above the city, trapping some pollutants.
The poor air quality will remain for most of the city until about midday on Sunday. Thunderstorms are then likely, bringing rain that will "wash out the smoke particles", Mr Park said.
Showers and a possible storm on Monday, along with southerly winds, will complete the clean out, he said.
Rainfall totals will be about 5 to 10 millimetres on Sunday and Monday, with about twice that forecast for inland suburbs.
While the bushfires have contributed much of the particulate matter that can enter the bloodstream or worsen lung ailments, other sources of pollution such as coal-fired power plants have added to the airborne swill.
Gabriel Da Silva, an atmospheric chemist at the University of Melbourne, said other nations such as the US and those in the European Union routinely order industry to cut output when certain pollution readings are exceeded, and Australia should do the same.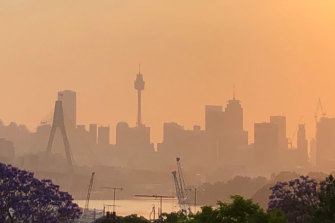 NSW Ambulance paramedics have responded to a spike in asthma-related call outs with two per hour since Wednesday.
Michele Goldman, chief executive of Asthma Australia, said it was the smaller particulates that penetrated more deeply into the lungs, causing inflammation and narrowing of airways.
While symptoms can build over days it was more common to see a quick deterioration so it was important for people with asthma to take any symptoms seriously, she said.
Loading
Although the haze may lift, it was important for people with asthma to make sure they were taking their preventer medication daily not least because the bushfire season may be ongoing.
"People will often talk to us about the fact that even after the smoke dissipates their symptoms tend to linger," Ms Goldman said.
The RFS said the smoke over the city would be coming from the bushfires to the north. There are no hazard reduction burns planned for this weekend, a spokesman said.
Peter Hannam writes on environment issues for The Sydney Morning Herald and The Age.
Rachel Clun is a journalist at The Sydney Morning Herald.
Most Viewed in Environment
Loading