"It does not achieve everything, in the sense that it will not pressure the Turks to leave immediately," Assad said. "However, it limits the damage and paves the way for the liberation of this region in the future, or the immediate future, as we hope."
Assad said Russia also preceded the ceasefire deal with an agreement with Syria's Kurdish group that gradually restores state authority to the area after seven years. Syrian troops had pulled out of the north-east in 2012, leaving it to the Kurdish group to administer. The Kurdish group had then allied with US forces to fight Islamic State militants – and set up a self- administration that controls nearly 30 per cent of Syria, including the country's largest oil and gas resources.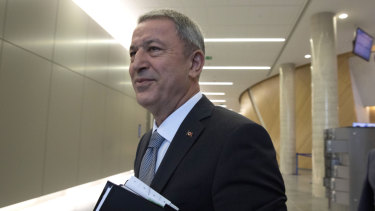 Turkish Defence Minister Hulusi Akar said the soldiers were captured during Turkish reconnaissance operations south-east of Ras al-Ayn but didn't say when.
A Syrian Kurdish official said the soldiers were captured on Tuesday during an intense battle between Syrian government forces and Turkey-backed fighters. Kurdish fighters were fighting alongside the Syrian troops.
The official spoke on condition of anonymity because he was not authorised to brief reporters.
Late on Thursday, Russia Today TV reported that Turkey handed over the 18 soldiers in an operation mediated by Moscow.
The station showed a video of Syrian soldiers, most of them in uniform, boarding what appeared to be a Russian helicopter. A couple of the soldiers were in civilian clothes and seemed injured. There were no more details were available of the handover.
"Of course, the Syrian army cannot be deployed only to carry out purely security or military acts," Assad said. "But certainly, the Syrian Arab Army will reach these areas simultaneously with full public services, which means the return of full state authority. "
Assad said state authority would have to be restored gradually because there are armed groups that still have to be disarmed.
"We do not expect them to hand their weapons immediately," Assad said. A day earlier, the Syrian government called on the Kurdish groups to join the official military. But the Kurdish group, which is seeking a degree of self-rule, said there has to be a dialogue with Damascus first.
Ankara views the Syrian Kurdish fighters as an extension of the decades-long Kurdish insurgency in south-eastern Turkey. But Washington has partnered with those Kurdish-led forces to fight IS over the last five years, putting in a difficult spot between its NATO ally (Turkey) and battleground partners.
The Kurdish forces leaned on Russia and the Syrian government to protect them against the advancing Turkish forces. But Turkey seized a stretch of land across the border before the US negotiated an initial ceasefire.