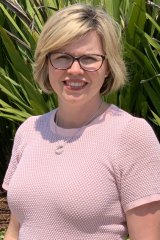 Human resources manager for medical and consumer electronics company Philips, Kyla McLennan, has seen some of the benefits of training managers in how to identify staff in need of support. Training had given managers confidence to talk to staff who appeared to be struggling with mental health, she said. Staff were also less reluctant to take part in that conversation knowing their bosses had some awareness of the issue.
"Before the training the conversations were few and far between, but some people are starting to come forward now," Ms McLennan said. "What we have learnt is that we need to be responsive to the team, but not be responsible. That might mean showing someone where to get help, but not being a counsellor."
After one of her employees raised concerns about a family member, Philips offered help in the form of its employee assistance program and access to an online program provided by the Black Dog Institute.
"A month later the employee said 'thanks so much, it has helped'. That employee felt supported," Ms McLennan said.
"The whole organisation has greater awareness about mental health wellbeing, and with increased awareness our people are then able to get support and take appropriate action."
Kate Robinson, health and wellbeing manager at equipment hire company Coates Hire in Mascot, said employees previously had access to standard employer assistance programs.
Loading
"We recognised that wasn't enough and wanted to do more," she said. "We also understand managers are the front line in being able to support their employees."
The company partnered with the Black Dog Institute in a management training pilot program to help reduce the stigma associated with mental health issues. It helped managers recognise warning signs, such as when someone became suddenly withdrawn, and guided the managers in how to have a non-threatening conversation.
"That means maintaining confidentiality, picking the right times to have a conversation and learning how to make adjustments in the workplace," Ms Robinson said.
Associate Professor Samuel Harvey who leads the Black Dog Institute's workplace mental health research program said managers were not expected to become therapists or counsellors. They just needed to know what questions to ask and where to refer the people.
"Managers are not required to solve the problem," he said.
Anna Patty is Workplace Editor for The Sydney Morning Herald. She is a former Education Editor, State Political Reporter and Health Reporter.