Mr Batterham chased Mr Slater about 330 metres around Hamilton, losing sight of him and then eventually tackling him to the ground, where the two men struggled.
During his opening address, Crown prosecutor Wayne Creasey told the jury a number of neighbours in Cleary Street will give evidence that they saw Mr Batterham on top of Mr Slater holding him down, punching him in the head and abusing him.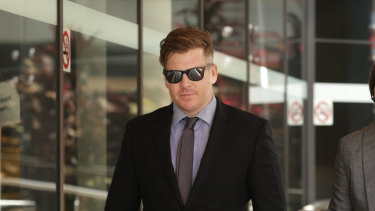 Mr Creasey said a number of those neighbours told Mr Batterham to let Mr Slater up, including an off-duty police officer who told Mr Batterham "let him go or he will die".
Mr Batterham was beginning to loosen his grip on Mr Slater when Mr Slater bit him on the webbing of his hand, enraging Mr Batterham who pinned Mr Slater again and punched him.
Loading
Mr Slater died the next day in John Hunter Hospital and Mr Batterham was charged with his murder.
The estimated four-week murder trial in Newcastle Supreme Court will focus on the medical evidence and Mr Slater's cause of death, with a number of cardiologists, forensic pathologists and clinical toxicologists split on the degree that the violent struggle, the level of methylamphetamine he had in his system, his obesity or pre-existing heart condition played in causing his death.
The other issue for the jury to decide will be whether – at the time of Mr Slater's death – Mr Batterham intended to either kill or cause him really serious injury.
During his opening address, defence barrister Winston Terracini, SC, said Mr Batterham did not have the intention to kill or seriously injure Mr Slater and he was not doing anything dangerous or unlawful when he chased and detained him.