Our racing writer Peter Ryan has some sad news about the horse that ran last in the Cup.
Using this interactive slider, you can rewatch the end of the race. Drag the cursor or swipe your finger over the image to turn back time: 
You might be wondering why there is a DEMOTED sign over Master of Reality, which crosses the line second. That's because stewards lodged a protest over it causing interference, which bumped it back to fourth. 
It always pays to take advice from a veteran.
Earlier in the day we visited Cath Hood (see 10.05am post), who had just taken her seat directly opposite the winning post for her 45th consecutive Melbourne Cup.
Her tip? Vow and Declare.
"You didn't see how excited I was getting," she said when The Age returned after the race to give credit where it was due.
She was in the process of sorting through her considerable pile of betting slips, most of them losing slips, but the $50 she had on Craig Williams' mount made it a profitable day out.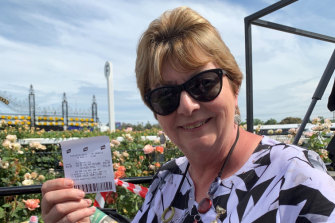 She says she's shouting Indian for dinner.
So close was the finish, not even Ms Hood, at the best vantage point of the home straight lawn, could pick Vow and Declare's head bobbing over the line first.
"This is why I keep coming back," she said.
A protest on behalf of Il Paradiso against Master Of Reality has been upheld, which changes the results for the runner-up of the Melbourne Cup.
After the race stewards fired in a protest against Frankie Dettori on the runner up Master of Reality for causing interference on behalf of the fourth horse home, Il Paradiso.
After hearing from connections they upheld the protest, demoting Master of Reality behind Il Paradiso.
The updated placings are: Vow and Declare first, Prince of Arran second, Il Paradiso third and Master of Reality fourth. 
Vow and Declare might have just won the Melbourne Cup, but he wasn't always so speedy.
This is a video of him as a yearling, at breeding farm Kitchwin Hills in Scone, New South Wales, where he wasn't so keen to roll out of bed one morning.
It must have been a Monday morning. 
Stewards have lodged a protest on behalf of the fourth-placed horse Il Paradiso against the runner-up Master Of Reality.
There's a curious father-son link in this protest as well: Master Of Reality is trained by Joseph O'Brien, Il Paradiso by Joseph's father Aidan.
We've included a video of the moment the Aussie horse Vow and Declare crossed the finish line to take out the 2019 Melbourne Cup (see 3.13pm post). 
But if you're reading this blog on your mobile phone and don't want to eat into your data, here is that same moment in GIF form.