"We don't predict the future, but we show what nature can do even without human interference in the climate," Eelco Rohling, the paper's lead author and a professor at ANU's College of Science, said. "Nature knows how to go much quicker than we thought."
Loading
Fiona Hibbert, the paper's second author and also at ANU, said the findings reveal Antarctica's "really, really big contribution" to sea-level rise, a finding that was "potentially quite startling" for its implications.
"The rate of warming is much faster this time – the warming is more extreme – and it's happening at both poles at the same time," Dr Hibbert said.
The paper said rapid sea-level rise from Antarctic melt "in pre-anthropogenic times – when climate forcing was slower, weaker, and more hemispherically asynchronous than today – increases the likelihood that such poorly understood mechanisms may be activated under anthropogenic global warming, to yield extreme sea-level rise".
The research will reignite debate over whether the general consensus that sea levels will rise only about one metre by 2100 – as argued in the latest paper by the Intergovernmental Panel on Climate Change – is too conservative.
"They calculate very much the sea-level rise without ice sheet contribution," Professor Rohling said.
"Some really fast things have happened in the past," he said. "We need to go to fully coupled models with ice sheets, and have all the physics represented that could be activated."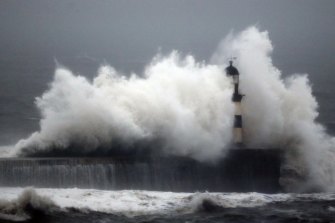 If all the ice in the Greenland and Antarctic ice sheets melted, sea levels would rise about 60 metres, he said.
"As soon as it's more than four metres, all of the big coastal cities are going to have to be moved," Professor Rohling said.
Taryn Noble, a marine geochemist at the Institute of Marine and Antarctic Studies at the University of Tasmania, said the paper was "a really important contribution. It shows us what the natural system is capable of."
Loading
The paper revealed complex systems "can change more rapidly than we thought", Dr Noble said, adding "we've not yet seen the full impact of the temperature changes that we have set off".
Professor Rohling said some of the processes that were part of the earlier melt are already evident. For instance, the flush of fresh water from melting Greenland ice had started to slow the Gulf Stream in recent decades.
"We are seeing the first responses … and we're really worried about it," he said.
Even without any further "forcing" from extra greenhouse gas emissions, temperatures will rise about half a degree by 2100 and a further degree by 2200 as slow-warming areas such as the deep sea and ice caps catch up, Professor Rohling said.
Peter Hannam writes on environment issues for The Sydney Morning Herald and The Age.
Most Viewed in Environment
Loading