The two factions, who have been supported by a Saudi-led military coalition in their four-year war with the Shiite Houthi rebels, began fighting each other in southern Yemen earlier this year, risking a permanent fracture in the alliance with the potential to prolong the devastating overall war.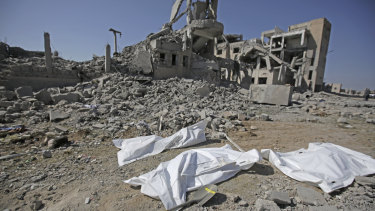 The clashes between separatists and forces loyal to Hadi had also signalled a potential strategic break between Saudi Arabia and the kingdom's key Gulf ally the United Arab Emirates, which backs the STC.
Loading
The UAE announced last week that its troops had returned home from the Yemen port city of Aden, where some of the fiercest fighting took place, after handing over operations to government-controlled forces. Mohammed bin Zayed, Abu Dhabi's crown prince, also attended Tuesday's signing ceremony.
"If successful, the agreement solves two short-term problems," Peter Salisbury, a senior Yemen analyst at the International Crisis Group, said earlier on Twitter. As well as preventing the emergence of a war within a war, the pact gives "more credibility to future government negotiating" with the Houthis.
However the agreement also "displays many of the hallmarks of past troubled political deals in Yemen" that could lead to its collapse, he said.
Loading
The Saudi intervention in Yemen's war has faced widespread criticism, with the US Congress voting this year to withdraw support for Saudi Arabia's role in the conflict. The European Union called the humanitarian crisis in Yemen the world's worst, and Germany imposed a ban on all arms deliveries to Saudi Arabia to stop them being used in the conflict.
Last month, a Yemeni official said in an interview that the STC and the Yemeni government had agreed that Hadi, Yemen's parliament and government would return to Aden. That would be followed by the formation of a new administration to include STC members as well as the integration of separatist fighters into the Yemeni security forces.
The US has begun efforts to find a negotiated settlement to the larger war in Yemen, which has triggered the world's worst humanitarian crisis with tens of thousands killed and millions left hungry and displaced.
In September, devastating attacks on Saudi oil infrastructure highlighted the danger the Yemen conflict poses to regional stability. The strikes were claimed by the Houthis but Saudi officials and observers saw the hand of Iran, which is pushing back against a US-led economic offensive to weaken the Islamic Republic.
Bloomberg