Fires also in the country's Pantanal wetlands have ripped through the biodiverse region, consuming an area the size of London in just the past 10 days, burning some animals alive and sending others fleeing.
Loading
The inferno in the world's largest tropical wetlands is the latest environmental disaster facing Brazil, coming after a mysterious oil spill that is afflicting beaches in the north-east this month.
The Pantanal, which sprawls over parts of Brazil, Bolivia and Paraguay, is a popular ecotourism destination considered one of the best places to see wildlife in South America. During the wet season, rivers overflow their banks and make most of the region accessible only by boat and plane. In the dry season, wildlife enthusiasts flock to see jaguars lounging on riverbanks, as well as macaws, giant river otters and caiman.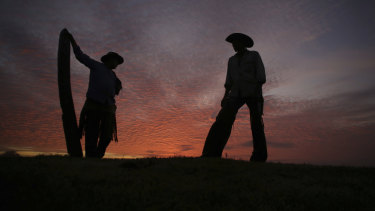 But this year's dry season has extended much longer than usual.
"Any spark in this area these days of high temperatures and very low humidity will start fires like those we've seen in recent days," Julio Cesar Sampaio, chief of WWF Brasil's Cerrado Pantanal program, said. "Only rain will decrease the risk of fire."
SOS Pantanal, a local group, reported that hyacinth macaws, a vulnerable species, lost much of their primary food source as coconut and palm trees went up in flames, and the blue-and-yellow birds have been seen flying about aimlessly.
Between January and November, the area had 516 per cent more fires than the same period last year, according to data from Brazil's National Institute of Space Research.
Global leaders, environmental groups and consumers expressed sharp criticism over Bolsonaro's tactics as the Amazon burnt.
Loading
This year through November 5, 77,239 fires were detected in the rainforest, home to 10 per cent of all known plant and animal species. That was up 31 per cent from a year earlier, according to data from the National Institute of Space Research, known as INPE. Still, the pace of new blazes has slowed from a peak in August.
Meanwhile, Brazilian agricultural groups have warned that major importers could start snubbing purchases from the commodity powerhouse because of environmental concerns.
Bloomberg, AP