Loading
WA Police Commissioner Chris Dawson said with the rollout of the phones, new body armour and body-worn cameras, police were "seeing quite a revolution" in how officers were equipped for duty.
Officers will soon also be able to take statements in the field, a move Mr Dawson said meant many would not be "tethered to a desk" and could spend more time on the road.
Police officers who find themselves in trouble will also be able to set off a "duress function", which alerts the State Operations Command Centre to their location.
Mr Dawson said this would help prevent scenarios similar to a 2006 incident where Sergeant Shane Gray was bashed by double-murderer William Watkins after pulling the man over near Karratha, unaware he was a highly dangerous fugitive from Victoria.
Sergeant Gray was eventually able to pull his gun and shoot the fugitive dead, but Mr Dawson said when a police officer stopped a vehicle, they didn't necessarily know who they were dealing with.
"Prior to this, [if] I'm stopping a registered vehicle, you couldn't even access at the roadside a photograph of the person who is actually registered to that vehicle," he said.
"We'll now have that capability."
Mr Dawson said the tech rollout would revolutionise the way police secured intelligence before and after they were called to a job.
Questioned about the security of the devices, Mr Dawson said there was high-grade security on the phones, as well as biometrics such as face-scanning in place as a locking device.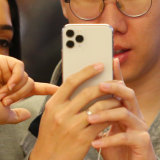 If a phone is lost or stolen, Telstra has the ability to demobilise it and in the event of a outage it would rely on other networks to piggy-back the system.
Ms Roberts said the $8 million tender was won by Telstra as a part of the state government's $90 million budget commitment to WA Police technology.
Mr Dawson said he was not aware if controversial Chinese telco Huawei, which had previously been awarded a contract for the WA public transport network, had applied during the tender process.
About 60 officers are trialling the phones in metropolitan and regional WA, with the rollout expected to be complete by Christmas.
Hannah Barry is a journalist for WAtoday.