"The impacts include a thin layer of oily residue along approximately 400 metres of the shoreline at the high tide mark within the marine sanctuary," a Parks Victoria spokeswoman said.
"Staff are monitoring for any impacts to wildlife and working closely with Melbourne Water and the EPA to address this urgently."
So far authorities say it appears that no wildlife in the sanctuary has been harmed, but they are monitoring the situation.
The ASX-listed Boral is helping with the clean-up effort that is likely to take several weeks, the EPA's western metropolitan manager Stephen Lansdell said.
"While further scientific analysis is under way, a nearby business, Boral Resources (Vic) Pty Ltd, has been identified as a potential source and is assisting authorities," he said.
Loading
"The agencies are confident they have stemmed the flow of the pollutant, and arrangements have been put in place to deal with expected rainfall."
Hobsons Bay mayor Jonathon Marsden said the spill was "a significant disappointment, and I have no doubt many in our community are disheartened as well".
"Along with Hobsons Bay's volunteer groups, we work hard to preserve our natural environment, including our precious waterways and wetlands, to build and maintain habitat for our local flora and fauna," he said.
Melbourne Water crews were back at the Paisley Challis Drain on Friday morning trying to contain and clean up the pollution.
The creek runs through the Paisley Challis Wetlands, a popular spot for bird watchers and walkers, and runs straight into Port Phillip Bay.
The Victorian National Parks Association says it contains rocky basalt reef, seagrass beds, saltmarsh, mangroves, and is a roosting site for migratory wading birds.
The sanctuary is also popular with snorkellers.
Boral said it was cooperating with authorities. "The source of the contaminant, which the EPA believes to be an oil-based substance, has not yet been confirmed," it said.
"We understand the EPA's investigation is ongoing. Boral will continue to cooperate with the EPA and othe relevant authorities."
Local resident Matthew Miller, whose house backs onto the creek and who first raised the alarm with the EPA, said he noticed a pungent, diesel-like smell on Monday, and awoke the next day to find that the creek had turned black.
"It was caked in oil all the way and running through the entire creek," Mr Miller said.
"The water was black, and the oil stains were running up both sides of the embankment – it looked like very dark oil stains. The smell was really pungent, it was quite overwhelming."
Photos of the contamination, taken by Mr Miller, show plants near the creek covered in black tar and an oily slick on the surface of the water.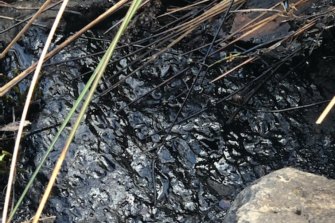 Rachel is a breaking news reporter for The Age.
Sumeyya is a reporter for The Age.