That lack of energy transcended to the crowd who almost came to a complete halt with their dance moves as they looked around at the big screens and each other's faces to confirm what they were thinking.
Hundreds, including those who had waited all day to see her and some possibly too young to know her songs, walked out in a mass exit.
But the show went on, with the youngest Jackson sibling pulling out some of her families' infamous dance moves paired with tapping her crotch, reminiscent of the King of Pop.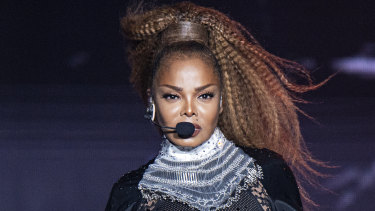 Getting past the lip-syncing issue, which I'm sure people up the back and in the stands wouldn't have been able to notice, Jackson got the crowd grooving to her old bangers What Have You Done For Me Lately, Rhythm Nation and my favourite All For You.
But it was the much anticipated Scream with her late brother that got the biggest reaction. The iconic black and white film clip for the 1995 hit played on the massive screens bringing to life the sibling's duet, with the crowd joining in yelling "Stop pressurin' me".
At one point she called on her brother, saying "Come on Michael" – but not even that, the pyrotechnics or the confetti could take away from the poor lip-syncing.
It was a disappointing end to an otherwise incredible start to the RnB Fridays Australian tour, with the Black Eyed Peas having warmed up the stage for Jackson with their newest female member, Jessica Reynoso from The Voice Philippines.
BEP aptly kicked off their performance with Let's Get it Started sending the crowd into song, pelting out the lyrics with all their might.
Will.i.am won over the crowds' hearts by reflecting and saying Australia was where they, as "hood people", had their first sense of success with the Big Day Out in 2001.
The crowd was up dancing and singing for their whole set, with standouts in Where Is The Love and their closer I Got A Feeling.
Curtis James Jackson III, better known as 50cent, was another standout, bringing all ages together in unison singing his classics In Da Club, Window Shopper and 21 Questions.
The live event was hosted by Fat Man Scoop with other artists including J-Kwon, Keri Hilson, Sisqo, Brandy and Jason Durelo.
RnB Fridays goes to Melbourne tonight before heading to Adelaide, Brisbane and Sydney.
Lauren is a casual reporter and producer for WAtoday.