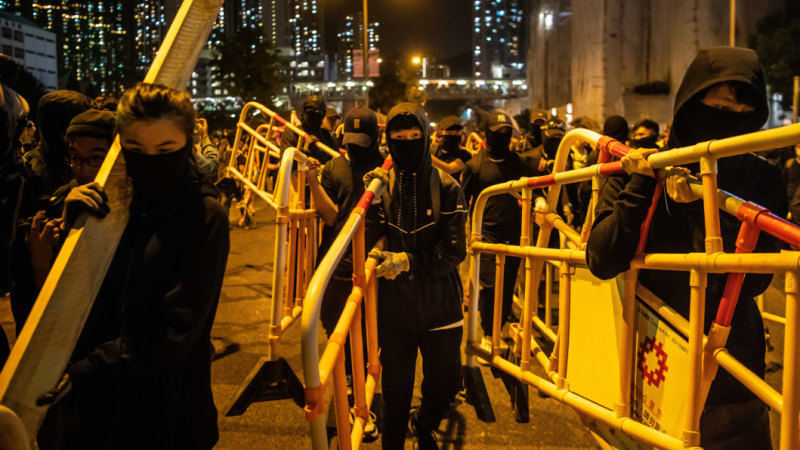 Another six opposition party legislators – Ray Chan, Au Nok-hin, Lam Cheuk-ting, Kwok Ka-ki, Gary Fan and Leung Yiu-chung – were told to report to police to be arrested.
They make up a third of opposition politicians in the Legislative Council.
Loading
Released on bail on Saturday morning, People Power's Ray Chan said he faced two charges of breaching a Legislative Council ordinance that prevents anyone obstructing or molesting a council member entering the chamber.
Local media reported the ordinance had never successfully been used against a member. Hong Kong's opposition parties released a joint statement accusing the government of trying to silence dissent and "trampling on the dignity of the Legislative Council".
Civic Party's Tanya Chan warned the government was "adding fuel to fire" and the District Council elections due to be held on November 26 would become a de facto referendum against the establishment camp.
Lawyer and author Antony Dapiran wrote on Twitter: "Deploying state security apparatus against opposition politicians in this way is real tin-pot dictatorship stuff".
Loading
The politicians will face court on Monday. The District Council elections will be the first ballot box test of whether public support for the protest movement will result in pro-democracy parties gaining more seats in local councils. There are fears the elections could be cancelled if violent protests continue.
The president of the Hong Kong University of Science and Technology, Wei Shyy, called for an independent investigation into how Alex Chow, 22, a computer science student at the university, died.
He also called for police to explain why there was a delay in Chow receiving medical treatment after he fell to the ground after a police dispersal operation nearby. He said he had seen video of police blocking an ambulance.
Only 35 of the 70 seats in the Legislative Council are directly elected by the public based on geographical divisions, with the rest voted in by interest groups.
Kirsty Needham is China Correspondent for The Sydney Morning Herald and The Age.