"Volunteers are fatigued, and we are stretched in that we're supporting the RFS in their bushfire efforts as well as the storm."
Loading
"As soon as we've finished these jobs, we'll spend time replenishing stocks, getting equipment refurbished. It's a constant cycle of getting jobs done and ensuring we're operationally ready."
He said that plenty of volunteers from the Rural Fire Service had come to assist in cleaning up trees, power lines and other hazards in the area, as well as other SES units from around the state.
"It was nice of them to return the favour," he said. "We know that when it comes down to the next event, they'll all be there at the end of the day."
"We've still got crews now volunteering in the bushfire information line as well."
Mr Mawn praised the assistance of the NSW government for providing letters to protect people's employment, with some being called away to volunteer their services for a week or two at a time over the November to February period.
"It comes down to the individual. Luckily we have some members that are retired. Some volunteers can be deployed for over two weeks, but we try to keep it under a week or so," he said.
"People put not only their work life but their personal lives on hold."
He said the best way to help the SES or the RFS was to volunteer your own time, and stressed the need for patience and understanding from the community.
"They understand that we're volunteers, our guys are working full-time jobs through the days and going out at night. Through Tuesday and Wednesday, there were people waiting 24-48 hours for us to get to them."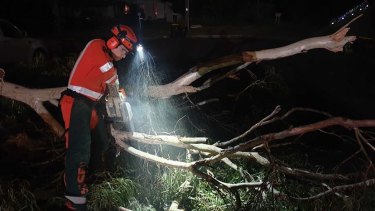 He also stressed the importance of people not using the emergency line flippantly.
"If you've got a tree on your house or there's a threat to life, call us immediately – but if a tree is down and not blocking access, it's best not to."
Matt Bungard is a journalist at The Sydney Morning Herald.
Most Viewed in Environment
Loading