The rules are simple. The game begins on December 1 and runs until December 24. Once you recognise the song, you're out. Cover versions are allowed (and there are so many of those), only the original will send you to "Whamhalla".
With that in mind, there are few strategic choices for going without Wham!
Shopping centres, as mentioned, are ground zero, so take earplugs. Taxis present another trap in the form of classic hits radio. Gyms are notorious for unwanted Wham!
Sean Whelan, 52, has attempted a Last Christmas-less December the past few years.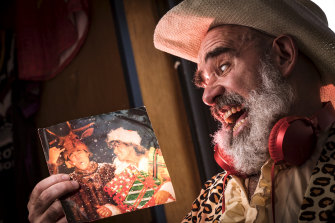 "It's one of those Christmas songs that has really stood the test of time," the Northcote man said. "And it just gets wheeled out every year."
Sean was close to making it through the holiday season unscathed last year, until he was DJing at the Workers Club in Fitzroy not long before Christmas.
"A few people were asking me for that song and I was sort of making up vague excuses that I didn't have it," he said.
"And then I thought 'nah, it would be really good to play it'…I just suddenly realised the power that I had as DJ.
"So I just thought f— it, take out myself and the whole room with me. I could tell a couple of others were in the game too because I saw them cover their faces, like 'oh no!"
Sean knows what he did was not quite in the spirit of the game. The organisers ask those playing not to sabotage others.
"I'm definitely in breach of that rule," laughed Sean. "The power got too much for me."
This year, the challenge has been made more difficult by the release of a film, Last Christmas, which was inspired by the song.
As evidence of the song's enduring popularity, the movie has sat near the top of the Australian box office since its release.
"I imagine some artists must dream of having a big Christmas hit," said Sean. "If it's enduring, they get a big chunk of change once a year."
Last Christmas is not the only Christmas song that has inspired a ritual celebrated on social media.
For the past few years, people have commemorated "gravy day" on December 21 in honour of Paul Kelly's song How To Make Gravy.
Loading
The lyrics are written from the point of view of a prisoner who sends a letter to his family on December 21 in the lead-up to Christmas.
Like Last Christmas, the song isn't about Christmas itself but relationships and the heartbreak that often accompanies the holiday. Another along the same lines is Fairytale of New York by The Pogues.
"I've got a kind of a love-hate relationship with Christmas," said Sean.
"It kind of makes me feel sad. There's something painfully nostalgic about it but there's also something that makes me happy in the way only nostalgia can do as well."
Tom Cowie is a journalist at The Age covering general news.