Santa pet photography has already sold out for the season at the Highpoint Shopping Centre but slots are still available at 39 out the 41 Westfield centres across the country, including Southland, which has hosted over 500 client shoots since November 9.
Ms Hansen, who runs her own photography business, Pet Photos Plus, this year expects to cover 800 clients in 16 days, at Petbarns, Best Friends and Mega Pet Warehouses across town, in the lead-up to Christmas.
On Saturday, at South Morang Petbarn, she had 70 clients and on Sunday, at Petbarn Thomastown, she had about 50.
Her Christmas gig started about six years years ago, when a single client responded to Christmas cards from her friends featuring their kids by paying Ms Hansen to photograph her shih-tzu, dressed in a Santa costume, emerging from a gift box.
Since then, Ms Hansen has photographed chickens, horses, a python and goldfish with Santa.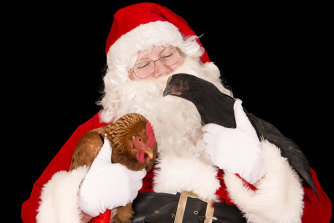 Fortunately, she loves working with animals and believes patience is a virtue.
Her prices range from $50 for a half A4 size print right up to the $2000 one client paid for 30 photos on a USB stick.
Sarah Mackie, 28, of Glenroy, was happy to spend $478 – split with her sister Jazmin, 22, and a friend – to photograph Jazmin's cat, Puss, and Sarah's three rabbits. (At one point, one rabbit lunged for the cat, but otherwise all went well).
Ms Mackie will post the images on social media, hang them on her walls and send them to "lucky" friends, family and workmates. "I'll be 'that person'," she joked.
Loading
"It's just a bit of fun."
The Westie dog's owners Clara Leonardi, 49, and husband Sam, 52, get new photos of Spencer every year: sending them to about 15 family members as cards and hanging prints on their walls.
Their two children, now aged 23 and 28, are too old to do photos with Santa. Spencer is "part of the family".
"We just love him to death," Ms Leonardi said.
They happily spent $478, getting a USB stick and a package of prints, including a canvas print to hang in the dining room.
Ms Leonardi said it's not a trend among her friends. "It's only us! My husband and I are nuts about our little Spencer. I think sometimes people look at us and think we're nuts. But we don't care, because he makes us happy," she said.
Loading
Carolyn Webb is a reporter for The Age.