The champion bowler is on the verge of spinning Australia to victory today.
But what was Shaheen thinking?? Three balls before dinner, Shaheen attempts to slog Lyon out of the park but it was poorly timed and he only manages to send it straight down Hazlewood's throat at mid-off!
Rizwan is shaking his head down the other end. He must be thinking, 'why did I let him have the strike?!' Shaheen really should've played conservatively, but instead he departs for one.
Lyon (5-65) has taken all five wickets today and now has his 16th five-wicket haul of his career.
Pakistan head to dinner on 8-229, still 58 runs behind Australia who only need two more wickets to claim victory.
The champion spinner needs one more scalp for a five-for
Rizwan hoiks Lyon over midwicket for a well-executed slog sweep boundary. He moves to 37 and has three fours to his credit.
Lyon raps Yasir on the pad, the Aussies go up in unison and the umpire puts up the finger for lbw!
Yasir decides to review the decision, but to no avail. There's not bat involved and Ball Tracking shows the ball is hitting the wickets.
Lyon (4-58) now has all four wickets today and Yasir departs for 13 off 26 balls, including one boundary.
Shaheen Shah Afridi is the new man in and Pakistan are 7-221, still 66 runs in arrears.
Labuschagne is staying out there after copping this frightful hit to the head.
Rizwan hammers a pull shot flush onto Labuschagne's helmet at short leg! Labuschagne seems to be OK. Thank goodness for helmets!
A beautiful leg glance from Yasir off Cummins! The first-innings centurion finds the gap between fine leg and square leg and scores his first boundary.
Been a fair comeback from Lyon who was 0-26 off 4.5 overs but now boasts figures of 3-54 off 21, including seven maidens.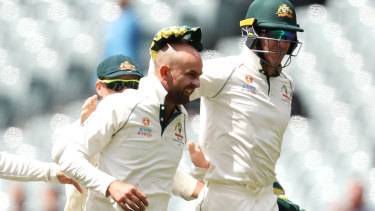 Cummins CRUNCHES Rizwan right under the armpit with a nasty short ball and the Pakistani wicketkeeper immediately throws away his bat in agony!