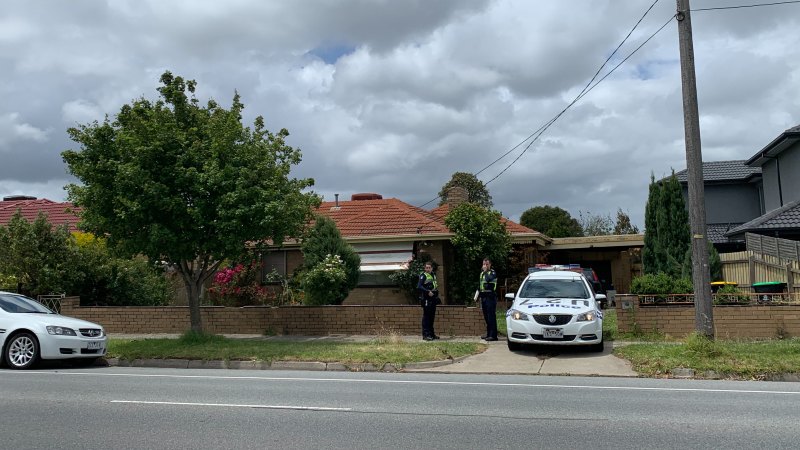 The man, of no fixed address, died of those injuries in hospital hours later.
The resident of the home was also taken to hospital with minor injuries.
Homicide squad detectives are investigating.
Tram Nguyen, who lives on Carlton Road near where the altercation took place, said her husband was woken by loud yelling outside their home in the early hours of Monday.
"I just heard emergency sirens from the ambulance," she said.
"My husband, he heard someone yelling, just the f-word or something like that, swearing. Around 4am."
Ms Nguyen, who has a two-year-old son, said she felt worried living in the area because there had been several incidents on her street, including a car break-in outside her home.
"This area is not totally safe," she said.
Two forensic officers arrived at the scene just before 2.30pm and examined part of the front yard, dusting for fingerprints on the front window of the house.
Stuart, who also lives on Carlton Road, said he was woken up about 4am by the flashing ambulance and police lights.
"I thought someone had run into [the back of] my truck but apparently someone got bashed or attacked," he said.
"There were bottles of blood on the fence, they must have been giving him blood."
He said police closed off a section of the street in the morning and spent hours scouring the scene before they left the area about 1pm.
Anyone with information is urged to contact Crime Stoppers on 1800 333 000 or submit a confidential report at www.crimestoppersvic.com.au.
Paul is a reporter for The Age.
Simone is a breaking news reporter for The Age. Most recently she covered breaking news for The Australian in Melbourne.