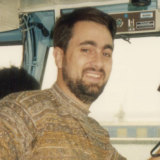 Ms Johnstone is now talking about how she went to a police station to help with an identikit in late-1998.
She has been shown the drawing. 
The image is of a man with dark features, a mullet and black, curly hair with dimples and a chiselled jaw. 
The next witness is Julie-Anne Johnstone, 47.
She has light brown hair, tied back into a bun and is wearing a patterned blouse.
She is now recounting an incident which occurred late on January, 27 1996 while she was waiting for a taxi in Claremont.
"I left Club Bayview … and walked … down to Stirling Highway to catch a taxi … in front of Hungry Jacks," she said. 
She is now being shown a drawing she made with prosecutors in 2019 demonstrating where she was standing, and where "a car pulled in". 
"It would have been 1.30am – 1.40am," she said. 
"There was another male [at the bus stop] he was there for a few minutes but I think he sort of gave up and walked off … I was waiting for a taxi there and I assumed he was doing the same."
Ms Johnstone said she was waiting alone after the man left. 
"A car pulled in [the bus stop] and I just assumed the car was pulling in to pick someone up but the car remained there for some time – 10 15 minutes," she said. 
"Eventually I turned around and there was a gentleman in the car and he had lent over to the passenger side and had wound down the window.
"It was a white sedan four-doors and it had a Telstra sign on the passenger side door. 
"It sort of looked like a Toyota Camry to me."
She said the man stared at her for around 10 to 30 seconds.
Ms Johnstone described him as aged between 30 and 35, caucasian or olive skinned with curly short, brown hair with a receding hairline and broad shoulders.  
"I did sort of turn and go, 'What?', and there was no response and I just turned around and walked west towards Fremantle way," she said. 
The next witness is Alec Pannall.
The 47-year-old is appearing via video link from London and is dressed in a suit and tie. 
Ms Barbagallo is now asking him about what he was doing on Australia Day, 1996 – the night Sarah disappeared.
"During the evening I went out with some friends into Claremont," he said. 
"We went to The Continental Hotel and Club Bayview. 
"The two friends were Mark Latham and David Brand .. .we left around 2am.
"We went to David's car that was parked in St Quentin's Avenue, he was driving."
He is describing driving away from the venue down Stirling Road towards Stirling Highway. 
"It was relatively quiet a few people were walking around, a few cars," he said. 
"The traffic lights were red so we had to stop and wait for them to turn green. 
"Mark made me aware of a young lady on the left-hand-side of the road. 
"He said something along the lines of, 'Have a look at her'.
"I turned to my left and on the side of the road was a female, probably around 20 years old, slim build, waiting next to a telecommunications inspection post."
Mr Pannall said the woman was around three metres away.
"She looked as though she was waiting for someone," he said.
"She was leaning against a telecommunications inspection post.
"She had her arms crossed and was looking around as if expecting someone."
Mr Pannall said he thought the group were at the red light for around 15 to 20 seconds before they drove away west down Stirling Highway heading towards Cottesloe. 
This witness has been excused. 
Mr Edwards is taking notes in the dock, as he has done all day. 
Mr Yovich is now cross-examining Mr Krupnik.
He said Mr Krupnik made statements to police around one week after Sarah disappeared, and then again a year later. 
Mr Krupnik has agreed he didn't particularly like collecting people from Claremont.
"At 2 o'clock in the morning, it's a bit tricky," Mr Krupnik said. 
He is agreeing he only glanced towards the telephone box and didn't look further down the road.
Mr Yovich: You didn't take long to look for this fare?
Mr Krupnik: No 
"It was very dark," Mr Krupik said. 
Mr Krupik has been excused.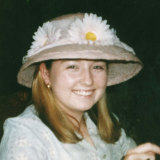 The next witness is Jaroslav Krupnik, who speaks some English but requires a Czech interpreter. 
The 70-year-old has thinning brown hair and is wearing a striped blue, black and white polo t-shirt with sunglasses clipped into the buttons. 
He said he is retired but on the night of January 26, 1996 he was working as a Swan Taxi driver. 
That is the night Sarah Spiers disappeared. 
"I started about 6pm [and my shift was due to finish at] 6 in the morning," he said.
"[I worked] basically in the western suburbs."
He said he recalled getting a call for a request for a taxi about 2am to go to Mosman Park.
"There was pick up on the corner Stirling Highway, Stirling Street in Claremont," he said.
"I don't remember the name [for the job] it was too many days.
"I was coming from Cottesloe via Stirling Highway, I was driving down Stirling Highway and I just look at the corner and didn't see anyone there.
"[It took me about] two minutes [to get there after I received the call]."
He said there were no people or vehicles at the intersection when he was stationary at its red light looking for the fare. 
"I kept going to Bay View Terrace and then I turn left and went to Bayview club," he said. 
"Because there was always possibility of job there because it was a nightclub."
He said he was able to pick up a fare "very quickly" within five minutes from the nightclub. 
"Three people, two girls and one man [got into the taxi] and they went to Mosman Park," he said. 
He said he then travelled with the group via Stirling Street and turned right at the intersection onto Stirling Highway. 
"I was looking because this fare is not there, but still nobody is there," he said. 
"There was a telephone box there … there was nothing."
He said he took this fare to Monument Street. This is the same street the state alleges 'blood-curdling' screams were heard around 2.30am – 3am. 
The next witness is Rebecca Morse, 45. 
She has long blonde hair and is wearing a grey, loose top. 
Ms Morse is one of the Telstra living project witnesses and was with Natalie Clements – who has already given evidence – on a night just before Christmas in 1996 at the Ocean Beach Hotel. 
She said she would usually get a taxi home from the venue but on this occasion noticed a Telstra vehicle doing laps of the area. 
"We were walking away and the same car came past us regularly, it looked like a taxi .. and we kept trying to flag it down thinking it was a taxi but it wasn't a taxi, it had a Telstra logo on the door," she said.  
"It came past us quite a few times, enough to be annoying that we thought it was a taxi when it wasn't."
Ms Morse never accepted a lift from the Telstra vehicle. 
The evidence of this witness is complete. 
Court has broken for lunch and will recommence at 3pm when a new witness will be called. 
Ms Bushell said she provided a statement to police in March 2017 about the encounter with the Telstra vehicle – four months after Mr Edwards' arrest.
Her original statement was taken by police in June 1997 – three months after Ciara Glennon disappeared. 
She said she was shown about 42 images of vehicles, one was a white Holden Commodore. It is not clear if this occurred in 1997 or 2017. 
Ms Bushell said there were three station wagons similar to the one she recalled from that night. 
Ms Barbagallo is now asking about the description of the driver. 
"My recollection is that he was middle-aged, 30 to 40," Ms Bushell said. 
"He didn't seem to be big or small, he just seemed to be a normal build."
Mr Yovich is now cross-examining Ms Bushell.
She is accepting the details of her statement from mid-1997 – six months after the encounter – would be more accurate than her recollection today. 
He is now asking about how much alcohol she drank on the night.
"I guess it was a bigger night than most, it was a pretty big night,' she said. 
He is now asking about when the woman got out the car. 
Mr Yovich: The man that was the driver was a man you have a minimal recollection of?
Ms Bushell: Yes
Mr Yovich: You weren't paying much attention to him.
Ms Bushell: No
Mr Yovich pointed out in her original 1997 statement, Ms Bushell estimated the driver was 35 to 40 years old. 
Ms Bushell was 22 at the time of the incident. 
The woman who accepted a lift from a man in a Telstra station wagon in 1996 and then suddenly exited the vehicle is the next witness to be called. 
Her name is Annabelle Bushell, 45. She has tied-back, greying hair with a fringe and is wearing a white collared shirt and chunky necklace. 
Her friend, Trilby Winsome Smith, who she was hitch-hiking with at the time gave evidence yesterday. 
During her evidence Ms Smith said she couldn't hear the conversation in the front of the vehicle between Ms Bushell and the driver: "I just remember Annabelle yanked me out of the back of the van and I was quite drunk but I said, 'What are you doing Annabelle?' and she said that man was …"
Defence lawyer Paul Yovich interrupted Ms Smith and prevented her from finishing her sentence.
Ms Bushell is now giving her evidence. 
"This one night at the end of 1996 we attended a bit of a long session [at the Ocean Beach Hotel], we played a lot of pool and spent some time there," Ms Bushell said. 
"We did have quite a few beers, yes … 15 or 20 perhaps [full strength middies]." 
Ms Bushell said they were at the OBH for "perhaps five or six hours" and recalls leaving at night. 
"We walked up Eric Street heading towards Stirling Highway … I'm assuming we were intending to walk home along Stirling Highway [towards my house in Nedlands]," she said. 
"My recollection is that a car came towards us and slowed down which was just a white station wagon.
"It's a wagon of some type and I can see the Telstra logo on the front right-hand side of the bonnet as I'm looking at the car.
"I'm assuming [the vehicle] continued, I don't recall it stopped at that point."
Ms Bushell said the pair continued walking.
"What happened next was that … a car came back that we got into.
"I don't vividly remember the next part I just remember getting into a vehicle with Trilby … the white wagon with the Telstra T."
She said the vehicle had one occupant, the driver, and that she sat in the front passenger seat and Ms Smith sat in the back. 
Ms Bushell said she could only describe his side profile.
"A man with neat [dark] hair, neat dress and dark trousers," she said. 
She said there was no conversation with the driver that she recalled. 
"I do recall getting to the Claremont intersection of Stirling Highway and Bay View Terrace," she said.
"My recollection at that point is looking up and seeing a red traffic light and just wanting to get out, I can't really remember what I said in terms of getting out, I think I suggested we were going to Club Bayview .. at which point we got out .. and I pulled Trilby out of the back seat. 
"She was from my memory half asleep on the back seat, I recall opening the passenger back door and reaching in and grabbing her.
"I assume we then walked home."
Ms Bushell says she can't remember any of the conversation with the driver. 
"For myself I just had a strong instinct to get out of the car and I wasn't in a good spot," she said.  
"We might have made an excuse to get out of the car, but it was at a stop light so we got out at that point."
Mr Vomero is now being cross-examined by Mr Yovich. 
He is asking about Mr Edwards' overtime from February 1995. 
Mr Yovich: Is it true to say these entries don't always represent the day they were worked?
Mr Vomero: It can be claimed on a different day. 
Mr Yovich has pointed out on February 11, 1995 – the day before Mr Edwards raped a teenager – he claimed nine hours' overtime. 
Mr Yovich has also pointed out that on any given day, a Telstra employee was entitled to double-time after they logged more than three hours overtime. He claimed this provided an explanation for some of the pay slip entries which he said seemed to imply Mr Edwards was claiming overtime for as many as four days on one entry. 
Mr Vomero couldn't comment if that was the case. 
"The onus is on the employee and the manager," he said.
Mr Yovich is now commenting on how payroll was manually entered by operators, who could potentially make data entry mistakes.