Loading
The survey is the latest global report to be released to coincide with a climate summit in Madrid, Spain. Delegates from almost 200 nations will debate how to step up action to cut greenhouse gas emissions to meet the Paris target of keeping warming to well below 2 degrees compared with pre-industrial times.
The drop in coal was starkest in the US and the European Union, with emissions falling 10 per cent. That pace was an acceleration from the average of 6.8 per cent over the past five years as gas use rose, while the rate was double that of the EU as tougher climate policies took effect.
India was the "biggest surprise", with the overall emissions from fossil fuels slowing to a predicted 1.8 per cent increase to 2.7 billion tonnes of carbon dioxide in 2019, or about a third of recent years.
Slower economic growth and a big monsoon that boosted hydro power at the expense of coal were among the factors, Dr Canadell said.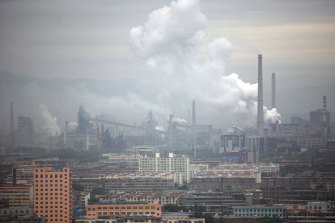 China will account for 10.3 billion tonnes of carbon dioxide from burning fossil fuels in 2019, up 2.6 per cent from last year, and more than the US and the EU combined.
While the carbon dioxide intensity of economic output has maintained its decline for a century, the same is not true for overall energy use in which fossil fuels remain dominant.
"Our energy system fundamentally hasn't yet been shaken up at the level we need to see [to meet the Paris goals]," Dr Canadell said.
Loading
In Australia's case, the data for the year to June showed little change from a year earlier. The ongoing drop in power sector emissions and a dive in those from agriculture amid the worsening drought were countered by the surge in pollution from the gas export industry.
Frank Jotzo, from the Australian National University said emissions from farming could be expected to increase when the dry spell ends and herd numbers increase.
Professor Jotzo said the Morrison government was relying on the use of expected "surplus credits" from the Kyoto Protocol from 2008-2020 to meet Australia's Paris pledge of cutting 2005-level emissions by 26-28 per cent by 2030.
"Under the present policy settings, you would not expect the actual 2030 target to be met," he said.
Apart from the reduction of emissions in Australia's electricity sector as renewable energy's share increases, most other sectors continued to rise.
Peter Hannam writes on environment issues for The Sydney Morning Herald and The Age.
Most Viewed in Environment
Loading