The coroner has granted leave for the sex worker to be a party to the matter. The sex worker will decide in coming weeks whether she will appear as a witness and give evidence.
"It's devastated her – it's completely changed her life … she hasn't been able to work since," Mr Lennon said.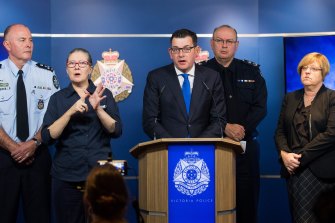 "She's experienced loss of confidence, she's apprehensive, with a heightened sense of fear and anxiety and various other symptoms that are analogous with PTSD."
Khayre, 29, was subject to electronic monitoring when he shot dead the apartment block's receptionist Kai Hao. The state's adult parole board has since revealed it was unaware he was on a terrorist watch list.
Loading
A confrontation ensued before Khayre fired shots at police, injuring three specialist police officers.
Police later revealed they believed Khayre had hired the sex worker to be a hostage as part of a plan to lure anti-terror units.
At a directions hearing on Wednesday, the parties broadly agreed on witnesses and suppression orders for the inquest.
Police are seeking to suppress information including the identities of some officers and operational tactics used by the Special Operations Group.
Police will not seek to suppress the police report into the incident, or training practices for the Critical Incident Response Team or the SOG.
Witnesses are likely to include officials from the Adult Parole Board, Department of Justice and counter-terrorism police.
The parties are set to reconvene before Christmas to set a date for the inquest. It is likely to take place in early 2020 and run for five days.
Paul is a reporter for The Age.