But Commissioner Margaret McMurdo was not persuaded she had a reasonable excuse, and has summonsed her to appear over the phone on January 29 next year.
Loading
"Giving evidence is always stressful for anyone, especially when that person's conduct is central to a highly public royal commission," Ms McMurdo said on Wednesday.
"Given the commission's preparedness to accommodate her health and personal circumstances by sitting short hours, taking her evidence by telephone … I am not presently persuaded on the balance of probabilities that she has established a reasonable excuse for failing to comply with the notice to attend."
Despite this, Ms McMurdo said she had "no confidence [that Ms Gobbo] will eventually give evidence before the commission".
The commissioner cannot compel Ms Gobbo to attend, only serve her with a notice to front up. If she ignores the notice, the commission can recommend charges under the Inquiries Act that attract a maximum penalty of two years' jail.
Mr Nathwani said his client had been diagnosed with a major depressive disorder, a pain disorder and post-traumatic stress disorder.
She is under extreme stress, has trouble concentrating and cries most days, the commission heard.
While Ms McMurdo accepted Ms Gobbo was not well, she noted she had previously offered to her police handlers to fake illness in court.
Mr Nathwani also argued calling Ms Gobbo, who he said had only two hours of free time each week, would slow down a commission already under pressure to meet its deadlines.
The slow-moving commission has held more than 90 hearings, questioning more than 60 witnesses since it began in February.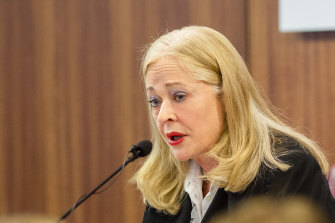 It had planned to finish evidence about Ms Gobbo on December 20, but given Wednesday's decision the inquiry, which has been bogged down in intricate questioning and the fight for documents from Victoria Police, has again been delayed.
Lawyers for the commission have already spoken to Ms Gobbo over the phone three times this year, questioning her on the first two of her three registrations as informer: as a university student in 1995, and as a young barrister in 1999.
But it's her registration from 2005 as Informer 3838 that is most under question because she gave police information about her clients, potentially compromising numerous gangland convictions.
Faruk Orman's conviction for the 2002 murder of gangland figure Victor Peirce was the first to fall in the wake of the scandal. The 37-year-old former client of Ms Gobbo was freed in July after 12 years behind bars.
Through the evidence so far, the inquiry has unearthed serious allegations that could warrant criminal charges, including perverting the course of justice.
Tammy Mills is a Crime Reporter for The Age.