Cricket Australia operations manager Peter Roach and Australian Cricketers Association chief Alistair Nicholson worked the phones furiously as the drama unfolded, while the office of Victorian sports minister Martin Pakula was also aware of what had transpired.
CA was clear in its message on Saturday night.
"We're very disappointed at today's play being abandoned in the Sheffield Shield match between Victoria and Western Australia," Roach said.
"But we also acknowledge that there have been two previous Shield matches at the MCG this season without incident. Matt Page and the MCG ground staff have more than two weeks to ensure the Test surface, which is a different pitch strip to the one being used in this match, is of international standard.
"We will seek to better understand the issues that resulted in variable bounce at the MCG on Saturday. We will also work closely with MCG ground staff in the lead up to the Test match."
This latest drama comes amid an intriguing backdrop where the deal between the MCC, CA and the Victorian government to host the Boxing Day Test expired last summer and, oddly, was rolled over only for one year until the end of this summer.
CA wants the government to help promote the Test more with public events and tourism links before and during the match. CA is also after better pitches. The flat strip used in the drawn 2017 Ashes Test was rated "poor" by the International Cricket Council, and last year was rated "average" although India did secure a Test victory.
Perth's new $1.6 stadium, run by former CA executive Mike McKenna, is keen to poach the Boxing Day Test or Sydney's New Year's Test. While it's unlikely any raid would succeed, the sporting landscape is changing.
The MCG has in recent seasons been regarded as a docile "road" that did not break up and help bowlers, making this latest drama even more bewildering.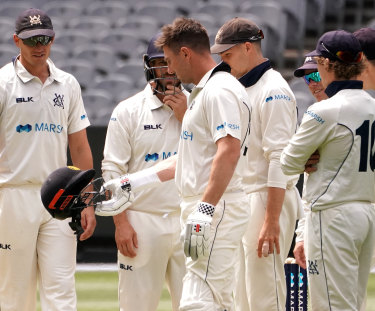 MCC chief Stuart Fox said it was "unfortunate that play was suspended" but said a "concerted effort" had been made to improve the standard of wickets. He said he was confident that a good wicket would be produced when the Black Caps were in town later this month.
"Our broader plan is to continually make improvements to the wickets to allow for pace, bounce and lateral movement and we're confident about our preparations leading into the upcoming Boxing Day Test," he said.
Match referee Bob Parry, WA coach Adam Voges, Victorian counterpart Lachlan Stevens, Marsh and Nicholson all stressed player welfare was paramount.
"It got worse and worse out there … we saw after lunch, the wicket got a little bit harder and there were a lot of divots out there, it just became unplayable," Marsh said.
Asked if he felt this would have any impact on the Boxing Day Test, Voges replied: "Obviously, it's not a great look. Like I said, there has always been a lot of pressure to try and get the wicket right here."
The pitch at fault in the Shield match will not be used on Boxing Day.
The MCC has undertaken multi-million dollar changes to the centre square, replacing the concrete slab which housed the ground's drop-in wickets with a more natural sand and gravel base, bringing the venue closer into line with Adelaide Oval and Perth's Optus Stadium. However, Fox has said it was going to take another couple of years before four new drop-in pitches are ready to be used.
Play is scheduled to resume at 10am on Sunday but Marsh and Nicholson suggested it was a long shot that the game would go ahead. Under cricket's by-laws, play could he shifted to another venue.
After play had been halted almost an hour after lunch with WA 3-89 after 40 overs, Page had been given two hours to eradicate the moisture but play was abandoned by umpires Phil Gillespie and Geoff Joshua at 4pm.
"There were multiple balls that vertically deviated more than acceptable and struck players on the helmet and body and, obviously, that's when the umpires felt it was becoming dangerous and player welfare has to be front of mind," Parry said.
Victorian skipper Peter Handscomb had complained after last week's drawn shield clash with NSW that the pitch used had failed to deteriorate.
Jon Pierik is cricket writer for The Age. He also covers AFL and has won awards for his cricket and basketball writing.