"When it came through it was pretty hectic," he said. "But now it's burnt, it shouldn't burn again … hopefully not."
Across the state, residents and firefighters took advantage of Saturday's relatively cool and calm conditions ahead of the "deteriorating conditions" the RFS has predicted for Tuesday.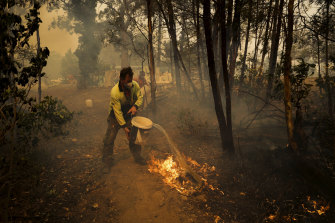 The Bureau of Meteorology's Helen Reid said while stable conditions were expected for the next few days, gusty winds and temperatures reaching into the low thirties could stir up fire activity later this week.
"That will bring with it all sorts of nastiness for firefighting," she said.
On Saturday, residents at Oakdale, Nattai, The Oaks and Silverdale on the south-western fringe of Sydney – whose hamlet is threatened by the Green Wattle Creek blaze – were hard at work preparing their homes and their communities for what is expected to come.
Residents were allowed through roadblocks to evacuate livestock, clear out gutters and pump dams as smoke billowed through the air and ash fell.
Meanwhile, emergency service workers cleared trees and water tankers sprayed down foliage on the sides of the road in preparation for what could be a dire few days.
The area has seen bad bushfires before, but nothing as severe as the current fire since the turn of the millennium.
Preparations were also being taken by officials at the Currowan Fire, close to the township of Bawley Point, north of Batemans Bay.
Police were doorknocking known arsonists on the south coast, as emergency services warned that the worst was yet to come.
"We have no rainfall, significant rainfall, forecast until February or March next year," said RFS Shoalhaven superintendent Mark Williams on Friday, warning the south coast blaze could still yet double in size.
"The drought is going to continue, and it's going to continue to dry up the landscape and increase the fire threat throughout summer. This is what we're up against."
Fire and Rescue said more than 2.1 million hectares of bush land had been burnt this season across the state – greater than the nation of Israel – as a megafire the size of Sydney burns ferociously on the city's northern flank.
Six hundred homes across the state have been destroyed and six have died since the fires started to burn.
Sally Rawsthorne is a Crime Reporter for The Sydney Morning Herald.