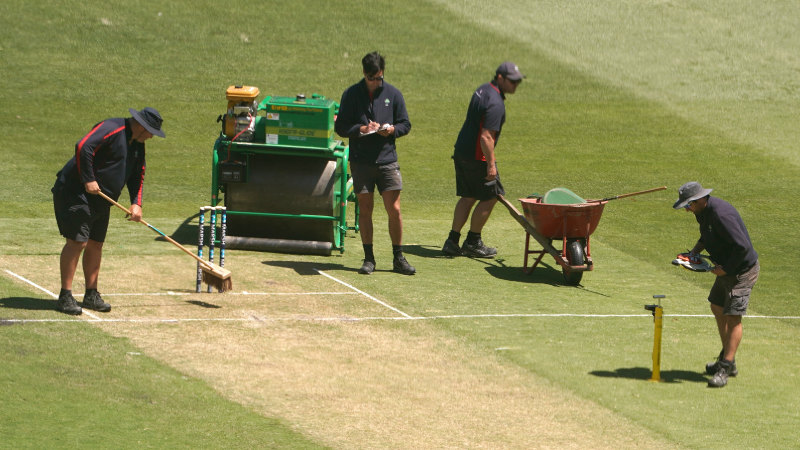 Loading
"The Boxing Day Test in Melbourne is something I look forward to every year. It's a great occasion and I'd love for Melbourne to keep it."
Former Australian and Victorian fast bowler Damien Fleming said the MCG was the rightful home of the iconic event.
"The MCG has the biggest crowd capacity. The MCC and the curator are working hard but it might be couple of summers until they get it perfect," he said.
"They will go back a step after the shield game and make it fine for Boxing Day."
Page is under enormous pressure to deliver a good wicket but the central issue remains the batch of pitches on offer are old and tired but won't be replaced for another two years.
The lifeless surface used in the '17 Ashes Test was rated "poor" by the International Cricket Council – before former WACA curator Page had started in his new role – and "average" last summer against India despite the visitors securing victory.
Loading
The pitch to be used in the second Test will be different to the one that baked under the sun and left divots in the shield clash, but the troubles could not have come at a worse time, for the Melbourne Cricket Club's deal with CA to host the Test expires this summer. CA owns the intellectual property rights to the term Boxing Day Test, having inherited this from Cricket Victoria more than a decade ago, and could bestow this on another state.
Ken Jacobs, who was CV chief for 27 years until leaving in 2007, said the venue had overcome pitch issues in the past – and would do so again. The MCG had Sheffield Shield matches shifted in 1980, there was Greg Chappell's famous blow-up during the 1981 Test against the West Indies, while the Australians and West Indians were stunned with what was served up in 1988-89.
"Whilst there were the occasional difficulties with the pitch, everyone was committed to ensuring the Test match stayed there and everything was done to ensure the pitch was right for the Test match," Jacobs said.
"I can recall going back to when we started to push strongly with the government around support for the Boxing Day Test [in the 1980s] and around the whole theme of what was required to build the status of the Test match. It took a lot of persistence at the time. Its rightful home is most definitely Melbourne."
Whether that remains the case could depend on how this month's Test strip performs.
Roach said he wants to see "more movement in that wicket and more action in those early days of the Test match".
"We've got confidence for the Test match on Boxing Day and we look forward to the 26th of December," he said.
Jon Pierik is cricket writer for The Age. He also covers AFL and has won awards for his cricket and basketball writing.