It showed his house intact, but his treasured man-cave – with a pool table and big TV, and all the standard trimmings – burnt to the ground.
"It's a massive relief – we thought the house was gone," he says.
"I reckon the CFA must have been there protecting the house."
It was a similarly harrowing night for Rebecca and Eric West, of Clifton Creek.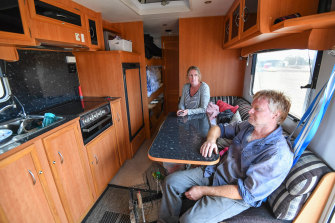 Late Monday night, they sat in their caravan in Bairnsdale's relief centre watching the sky over their property.
"It was absolutely glowing. We thought it was gone," says Ms West, 46.
They'd also heard from a neighbour that fire had torn right through their property, which they only moved into with their young daughters three weeks ago.
When they awoke on Tuesday, they hadn't had much sleep: "We were crying at night – we felt scared and sick," Ms West explains.
They soon found out their house was still standing.
Mr West had installed a sprinkler system that blanketed the house and surrounding grass area in water. He also barricaded the windows.
Grass and forest only meters away from the property were scorched black, but the area within the sprinkler's reach remained unburnt.
Clifton Creek Primary School, attended by the Wests' daughters, was a rubble when the family drove by it on Tuesday.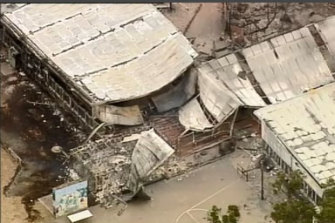 "A lot of kids need that school. They go there because they can't cope with larger schools – they need one-on-one [teaching] and they'll have nowhere to go now," says Ms West.
Mr West says he knew the area was ripe for a devastating fire the moment he moved in to the new house.
The area hadn't had back burning for more than two decades, so he took matters into his own hands by attempting to clear the small area around his property. Three properties in the Wests' local area had burnt down, according to the family.
"The amount of fuel is unbelievable. It crunches under your feet. Now everything's gone – animals, homes, everything. It's mad," Mr West says.
Mr Parker and the Wests are among about 30 evacuees stationed at the Bairnsdale Football Club's relief centre.
They have come from all over East Gippsland, including Bruthen, Clifton Creek and Metung.
As thunder cracked overhead on Tuesday, the relief centre was quiet and anxious, where locals waited to hear news on whether they have a home to return to.
On Monday, the footy oval and surrounding function room couldn't accommodate the hundreds of East Gippsland locals seeking refuge.
The idyllic Bairnsdale Racecourse was used as a spillover venue, while many have gone to stay with friends and family.
Some spent Monday night in caravans, some in cars, and others on makeshift beds in the club change rooms.
Marian Brandum celebrated her 84th birthday in a tent on the footy club's oval with her daughter-in-law Sally, as well as her dogs and birds.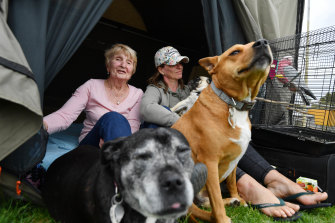 "It's something different isn't it. Can't get drunk tonight, can I?" she jokes.
"And it's New Year's Eve tonight, so it's a double whammy."
Sally's husband is back defending the family home in the coastal town of Metung, where an emergency warning is in place.
Fire hasn't reached the town yet, but is only kilometres away.
"He's staying there fighting. He's very brave," says Mrs Brandum. "We're just hoping for the best."
Paul is a reporter for The Age.