Moruya: The Princes Highway remains closed between Moruya and Batemans Bay due to fires still simmering along the highway, falling trees and powerlines. Powerlines have fallen onto the road near Mogo, where police blockades are in place.
The road closures and fires have left many residents and holidaymakers stranded. A traffic commander in Moruya said he's heard "there's a lot of people sleeping in cars tonight" as motels are fully booked.
Power outages in the region mean pubs and homes are relying on candlelight, making a quiet and subdued New Year's Eve for many.
NSW Emergency Services Minister David Elliott has apparently reversed course and decided to return to Australia from a European holiday to help manage the response to the bushfires, less than an hour after the The Sydney Morning Herald was told he would not cut his holiday short.
Mr Elliott left for holidays in London and France with his wife earlier this week, departing only a week after Prime Minister Scott Morrison was forced to apologise for holidaying in Hawaii as the fire crisis worsened.
"In light of the escalating damage toll to the South Coast and the tragic loss of a further two civilians and one RFS volunteer, I have decided to return to Australia to stand with our selfless volunteer firefighters and bushfire affected communities," a News Corp reporter said on the social media site Twitter on Tuesday night, attributing the words to Mr Elliott.
More than 130 fires remain burning across the state, with five at an emergency level: The Arizona Road fire in Charmhaven on the Central Coast, and four fires on the South Coast.
A further seven fires are at "watch and act", after a catastrophic day of fires which has seen the deaths of a father and son, and leaves a third person unaccounted for. 
The number of homes lost since this fire season began is now close to 1000. 
Police have confirmed that a father and son have died and a third man is unaccouted for after flames swept through the historic town of Cobargo on the NSW South Coast on Monday night.
The father and son who died defending their home are believed to be Robert and Patrick Salway. Patrick leaves behind his wife Renee, who is expecting their second child.
Daniel Cochrane, a dairy farmer who knew the family through the industry, said: "They are one of the tightest, close knit families you'll ever come across".
A bushfire in Greystanes, near Blacktown, is spreading quickly, according to a warning issued by the RFS. It said the fire was burning in a northerly direction and has advised residents east of Prospect Reservoir, south of the M4 and north of the train line in Pemulwuy that they are at risk and it is too late to leave.
When Grant looked out from his "little hideaway in the bush", just off the Princes Highway on the state's South Coast on New Year's Eve morning, he knew he was in trouble.
"The strong winds of a thunderstorm came through, but instead of raining water it was raining embers, which ignited everything," he said.
Scorched trees, smouldering dirt and a smoky orange sky surrounded closed sections of the Princes Highway between Batemans Bay and Morua on the South Coast after a blaze ripped through unannounced. 
After a horror day of bushfires that claimed several lives and dozens of properties in NSW, the weather is forecast to improve in the latter half of the week before conditions deteriorate again on Saturday.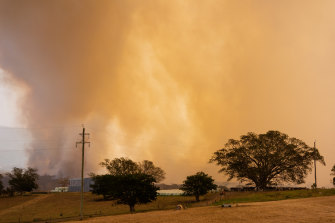 Western Sydney sweltered through its hottest ever December day on Tuesday, with a peak of 46.3 in Penrith recorded at 3.21pm. Towns along the South Coast, where the worst of the fires raged, hit the high 30s.
"What we've seen is some really hot temperatures develop and some really gusty north-westerly winds over southern and parts of western NSW," NSW Bureau of Meteorology acting manager Jane Golding said.
A lack of access to repair or fix power outages on the south coast may see customers without phone coverage overnight. 
"Many of our sites are on redundancy power to keep some services active but when this fails or the batteries go flat, the services will go offline," a Telstra spokesman said.
"Given the extent of fires across NSW, Victoria and SA, we are critically aware of the need to restore any loss of services as quickly as possible. Our crews work closely with emergency services to ensure our teams have access to areas of need as soon as they are deemed safe to enter, or under escort.
"We take our responsibility very seriously and treat areas that are impacted by natural disasters as a priority for restoration of services."
Telstra said that places such as Ulladulla, Batemans Bay, and Bawley Point were affected.
An updated statement from Optus said that customers on the south coast in Long Beach, Batemans Bay, Denhams Beach, Malua Bay, Moruya Wandera, Mossy Point, Broulee, Moruya North, Moruya Central, Kianga, Narooma, Bermagui, Tilba Tilba, Agledale, and Cobargo may be experiencing outages.
"Optus' network operations team are working closely with the relevant emergency services to access mobile sites to restore services as a priority. There are widespread power outages across South Coast," a spokeswoman said.
Vodafone said that a fault on a third-party cable and hazardous bush fire conditions along the coast has resulted in disruptions to 3G and 4G mobile voice and data service on all mobile networks.
"Vodafone customers between Batemans Bay and Bega may experience difficulty making and receiving calls, sending text messages or using mobile internet services," a spokeswoman said.
"Technicians have been unable to gain access to fix the fault due to the hazardous conditions in the surrounding areas. We are working closely with local emergency service crews and other relevant authorities to have services restored as soon as it's safe to do so."
In the Bega Valley, a care centre for the physically disabled has been evacuated and thick smoke is preventing the emergency airlift of burns victims and a premature baby.
Jane MacGreggor, who works at Nardy House respite care in Quaama, said her team managed to transfer four seriously disabled residents this morning, as fires bore down on the facility.
"We couldn't just take them out," Ms MacGreggor said. "There was nowhere for these people with profound needs to go. You can't just leave them in a wheelchair for the next 24 or 48 hours."
Fire crews helped staff pack buses and the residents were taken to hospitals in Bega and Eden. Firefighters are reporting that Nardy House itself has survived with minor damage.
"We'll go and inspect and hopefully get our residents back into their home," Ms McGregor said.
Ms MacGreggor was one of several in the Quaama area to lose their homes, and has escaped to Bega with her daughter.
Meanwhile, Southern NSW Health has confirmed there are serious burns victims and a premature baby at Bega Hospital, but thick smoke has made emergency airlifts impossible.
Defence Minister Linda Reynolds announced that following consultation with the Prime Minister, the ADF would be sending additional resources to fight fires in Victoria.
I've spoken with Scott Morrison& authorised ADF to deploy extra assets to the Victorian fires," she tweeted.
Three helicopters and an aircraft will fly to East Sale, the HMAS Choules and MV Sycamore will sail to East Gippsland and a joint task force has been stood up with army personnel and liaison officers.