A 55-year-old Altona North man was also taken to The Alfred hospital under police guard with apparent gunshot wounds.
Homicide detectives found a gun at the scene. They confirmed all parties involved were known to each other and that they were not looking for any further offenders.
A man who lived nearby, Lewis, who did not give his last name, said he believed the woman who was killed and the man in hospital fighting for life were a couple.
"I didn't know the couple but they recently had a wedding, about six months ago," he said.
Relatives of the couple arrived at the scene after midday and were crying and hugging each other as they spoke to police.
Forensic officers arrived in the early afternoon and took photos of the exterior and interior of a maroon car parked outside the property on Salisbury Street.
Police also interviewed neighbours, but most said it was a quiet morning on the suburban street and the first they knew something had happened was when the police tape went up.
One neighbour said he heard two gunshots which came from the parkland behind his property.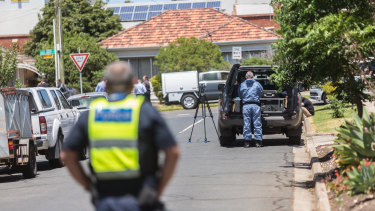 It is understood the Anglicare service in Yarraville went into lockdown for a period after the incident occurred.
The ends of both Salisbury Street and Gordon Parade, as well as a section of Powell Street, were blocked off for most of Monday.
Simone is a crime reporter for The Age. Most recently she covered breaking news for The Age, and before that for The Australian in Melbourne.