Loading
"We feel very left out," Deb Taylor told The Age and The Sydney Morning Herald.
"The relief centre has only just got food available and it's been going for a few days."
Annie, who evacuated north to Bombala in NSW a few days ago, told ABC Radio that without power and with only limited phone reception, her town felt very alone.
"Their messages aren't getting out anywhere, they feel very isolated," she said.
"They're screaming out for help and they feel that no one is listening."
Loading
Helicopter crews had planned to evacuate people on Tuesday night but Ms Taylor said that plan was abandoned because the smoke made the plan too risky.
So now, between 50 and 100 people are bunking down at the school hall and relying on their own dwindling supplies and whatever the supermarket can donate. The town had run out of milk and bread, Ms Taylor said, and unleaded fuel and bottled water was low.
The situation had many of the children at the relief centre scared, she said.
"They are very, very frightened. There are kids sobbing in the corner," she said.
Loading
"The parents are doing their best but it's not a good environment for anyone."
Another resident, Daniel, called for whatever could be done to evacuate people west to Orbost, as many were keen to leave.
"We're just sort of bunking down tight … if there's any way they could do a convoy to Cann River to get us out of here, that would be great," he told ABC Radio.
Ms Taylor, whose family runs a beef farm six kilometres north of Cann River, said although the fires around Cann River had been downgraded, the threat still felt very real.
The fire on Wednesday was about three kilometres away, she said, and she, her husband and their adult son must also prepare for forecast hot conditions on Saturday, as they are planning to stay and defend their property.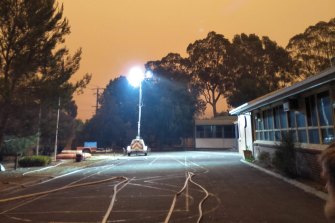 "It's very smoky, there's a lot of embers coming down and a lot of ash falling," she said.
"Saturday is going to be a shocking day.
"We're fortunate that we've got a big dam in our backyard so we can just pump water out of that, but in the rest of town water is a problem."
Check fire conditions at the Victorian Emergency website.
Lifeline 131 114
Adam Cooper joined The Age in 2011 after a decade with AAP. Email or tweet Adam with your news tips.