The RFS is asking for visitors from Batemans Bay down to the Victorian border to leave as they don't have to be in these towns and for prospective holidaymakers to choose alternative arrangements as fire risks increase ahead of the return of extreme heat on Saturday.
Emergency services plan to visit caravan parks to encourage people to leave as local towns have suffered heavy loss of property and infrastructure in recent days.
People in these regions face the risk of further losses when the temperatures start to rise again. RFS spokesman Ben Shepherd has said this is to both ensure the safety of visitors and reduce strain on existing resources amid the interruption to power and other services due to bushfires.
Fears had been held for an 81-year-old woman at Lake Conjola yesterday, but police have confirmed this evening that she has been found, alive and well, in nearby Manyana.
A 72-year-old man remains unaccounted for at Belowra, about 50km north west of Cobargo.
Scott Morrison declared that the upcoming test match between Australia and New Zealand would be played in the shadow of tragedy.
As children of the two teams played a few overs on a lawn that crunched like tinder underfoot at Kirribilli House on Wednesday, the Prime Minister acknowledged the bushfire crisis away from the idyllic harbour setting.
He thanked the Australian captain Tim Paine and Black Caps vice-captain Tom Latham for their teams' decision to wear black armbands to commemorate the lives lost in the fires and expressed his gratitude to New Zealand for its on the ground support.
From AAP, here are some statistics from around the country since the fire season began. Obviously, all of these numbers will continue to increase.
NSW
15 lives lost, four in the past 24 hours
Two people remain missing
More than 100 bushfires burning
3.6 million hectares burned, greater than the size of Belgium
1087 homes confirmed destroyed

VICTORIA
One person dead, four more missing
More than 40 bushfires of significance burning
More than 500,000 hectares burned
68 structures confirmed destroyed but this number is expected to rise significantly
SOUTH AUSTRALIA
Two lives lost
About 20 bushfires burning, seven of significance
More than 60,000 hectares burned
More than 90 homes confirmed destroyed
QUEENSLAND
7 bushfires burning
250,000 hectares burned
45 homes confirmed destroyed
WESTERN AUSTRALIA
More than 40 bushfires burning, two of significance
1.2 million hectares burned
One home confirmed destroyed
TASMANIA
More than 30 bushfires burning, seven of significance
8000 hectares burned
One home confirmed destroyed
Ron and Anna Dunne were picking through the remains of their house beside the usually idyllic Clyde River near Nelligen on New Year's Day, less than 24 hours after fire reduced it to a mix of buckled steel, melted glass and ash.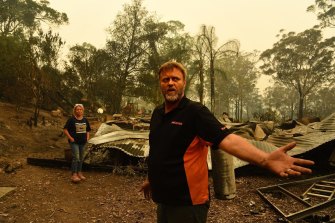 "This could have been saved," said Mr Dunne, who runs a butchers shop in Batemans Bay.
When he could get past a local fire officer, Mr Dunne fought to save a couple of extended rooms on the house, ignoring a flame-throwing gas cylinder that might have exploded.
The latest update from RFS headquarters re-affirmed the message that a lot of work needs to be done, but it needs to be done cautiously. 
"What we need to remember is there are still many pieces of active fireground," said NSW Police Force Deputy Commissioner Gary Worboys.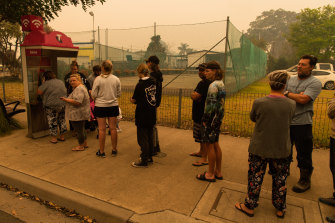 In a small piece of good news, he said that access from Batemans Bay to the north will be open to very  restricted access from some time this afternoon, and the control of traffic and highway patrol and the RFS.
"Once again, we need people to be patient," said RFS Commissioner Shane Fitzsimmons.-
"We all need to prepare ourselves for more challenging conditions to once again impact large areas of New South Wales, particularly the south-eastern quadrant as we head into the weekend."
Premier Gladys Berejiklian echoed their comments about thanking people for their patience.
"We know that making our roads safe to access is taking time, and just because you can't see flames doesn't mean the road is safe to use," she said.
The Currowan fire continues to rage and is now nearly 230,000 hectares in size. This photo is just one example of the carnage it wrought upon parts of the south coast overnight.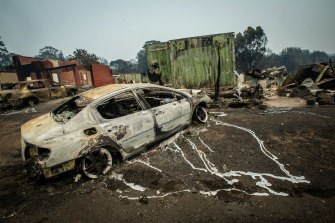 Cobargo residents Barbara and Dave Rugendyke have fostered 400 children over the past 27 years.
They bought their house in the state's south-east when they retired 10 years ago and made it their own, adding a granny flat and extra bedrooms plus a treehouse, caravan and worksheds. Since they moved there from Canberra, about 100 children have called the property home.
But on New Year's Day all of it was gone – read the full story here.
The fire, which is now over 100,000 hectares in size at Ellerslie, south of the Snowy Mountains Highway, is out of control as firefighters work to slow the spread of the blaze.
The RFS are advising people in nearby areas such as Talbingo and Batlow to be alert for changing conditions, as well as embers and spot fires.
More than 125 fires remain around the state. In addition to this fire, six others are at "Watch and act" level. 
The Rural Fire Service is predicting dire conditions for Saturday, with fears that fires in southern NSW and around Sydney may flare out of control.
"There is every potential that the conditions on Saturday will be as bad or worse than we saw yesterday," Deputy Commissioner Rob Rogers said.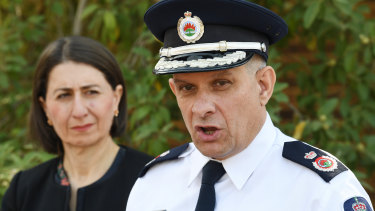 "The winds are expected to be very strong, backed by 40 plus degree temperatures. We've got a lot of fires in the landscape we won't contain."
Deputy Commissioner Rogers flagged concerns about a blaze at Wollondilly, to Sydney's southwest, which broke containment lines on Tuesday.
"We are concerned about that fire because of its potential run into western Sydney if that fire gets away on Saturday," the deputy commissioner said. "We are quite concerned about that."
There are also fears about the Werri Berri fire, southwest of Bega; the Badja Road fire, east of Cooma; the Dunns Road fire, to the west of Batlow; and the Green Valley fire around Jingellic.