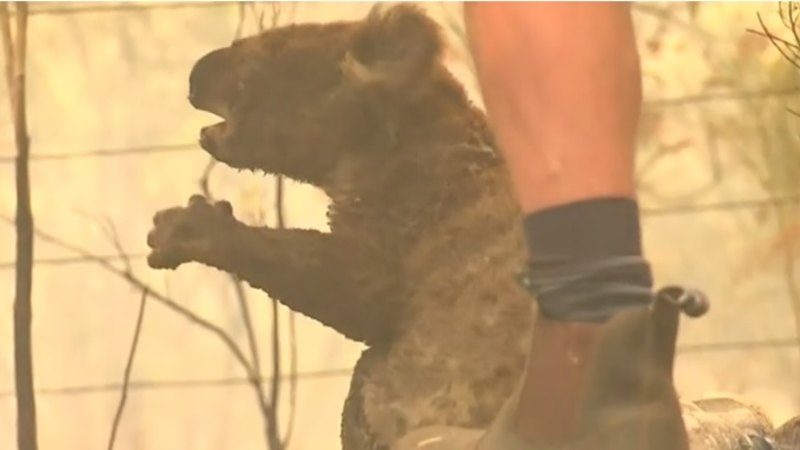 "I've never seen anything like this before, we're calling it a starvation event. I just had a phone call from Nowra, where there are more dead and starving babies in the Bomaderry and Berry colonies."
Professor of conservation biology at the University of Sydney Mike Letnic said drought and searing fires had put koalas and potaroos under increased pressure this summer.
Loading
"With the climate being so dry at the moment, and the intensity of these fires, wet gully areas and so on that normally escape the worst of it have been burnt," he said.
"Animals that typically survive in these patches that don't burn can recolonise from these refuges, but there may be too few pathways to allow for effective recolonisation. It will depend on how many refuges are left."
Professor Letnic said koalas and potaroos would become locally extinct in some areas of their habitat – which extends across the North and South Coast fire grounds.
They would have been "wiped out in many areas" and those "that did manage to survive won't have anywhere to live now".
Another problem for native wildlife would come from predators – which can be more mobile and escape fires – that then move back into the old fireground and "start mopping up vulnerable animals", he said.
Professor of pyrogeography and fire science at the University of Tasmania David Bowman said it was "extraordinary" to have concurrent fires in all of Australia's dry forest regions, which sit across Tasmania and "a narrow ribbon of land" running around the coast from Queensland to the south-west forest of Western Australia.
"Normally they were the refugia for fire sensitive species – that goes back to ancient times – but it's been so dry due to extreme drought fires have overwhelmed what are normally safe havens," Professor Bowman said.
"We're living in the Anthropocene and it calls into question the idea that nature can self-assemble. Nature is super resilient, but it might reassemble with lots of missing parts, and that would be very distressing to people.
Loading
"This opens a big box of issues and will change the way we think about Australia's forest ecology. We may see more sensitive interventions, like trying to rescue animals ahead of fires, or reintroduce them after it."
Professor Letnic and Professor Bowman both said feral deer, which are already damaging alpine areas in Victoria and the NSW North Coast and Illawarra, would likely spread into new ground as green shoots emerge from trees and undergrowth when fire-hit landscapes begin to recover.
Mike is the climate and energy correspondent for The Age and The Sydney Morning Herald.