Aware of their own commitments or debts to the Paris accord, many countries have been on high alert for climate news and disasters happening beyond their borders.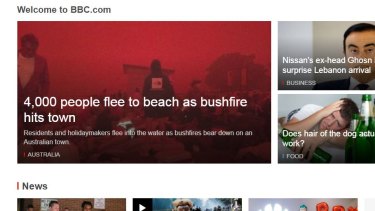 Local and regional fires, floods, extreme weather events have taken on global significance, as climate protests broke through the confines of "green activism" to touch populations across age, gender and politics in 2019, helped greatly by Swedish teen warrior Greta Thunberg.
France, Britain, Italy, Germany, the United States, among others, experienced extreme weather events in 2019 that tied them to those happening elsewhere. And like the Amazon fires mid-year, the Australian bushfires, too, became part of the global community's concerns and their main headlines.
From Canada to the Middle East to Asia, the local stories of Mallacoota, Mogo and Cobargo became a way for the world to come together to grieve for Australians and for the planet.
On December 30, the day before Red Tuesday, the BBC World service led every radio bulletin with the bushfires, each time adding more detail and analysis. On New Year's Eve and New Year's Day, the BBC's main website featured the disasters in the main spot all day. "More than 200 homes burn down in latest bushfires", its main headline said on Wednesday.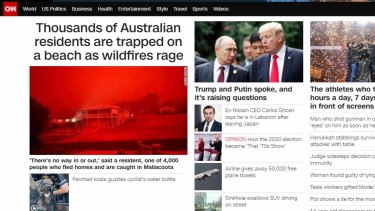 Despite the time difference, CNN also led its site with "Thousands of Australians trapped on beach as wildfires rage", while in Canada, the Toronto Sun led with "Canada sends two more groups to Australia to help fight wildfires" along with a photo of the devastation in Bilpin, NSW.
Franceinfo, featured the fires in pictures. Many others ran the video of a koala who stopped to drink from a cyclist's water bottle.
Al Jazeera wrote of Australian towns being "shrouded in darkness" and included comments from Sydney's Lord Mayor Clover Moore saying rather than fireworks, the real issue the country should be worried about was climate change.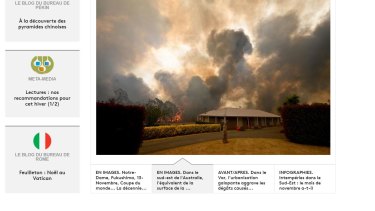 Not every publication everywhere gave the disasters the same prominence, but there's no doubt people around the globe got the message. The planet is getting hotter: just look at the pictures from Australia.